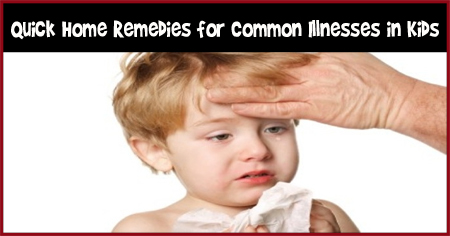 Home remedies are traditional remedies which can give immediate relief to children from common health ailments. These remedies may most of the times provide permanent relief to children but sometimes medical intervention may also be required. Read on to learn about the home remedies for the common illnesses in children.

A lot of parents these days do not wish to subject their kids to chemical medicines from the very start. Effective as the chemical medicines might be, they have several side effects. At the same time giving over-the-counter medicines to kids may not be safe. Kids are all the more sensitive and the side effects are pronounced in them. One reason why parents resort to natural remedies is this.
The chemical medicines for cold tends to make kids drowsy, the medicines for intestinal problems cause digestion problems to name a few. As parents are growing sceptical about the safety of chemical medicines, they are searching for natural remedies. Many are not aware of the kind of simple remedies that are effective for the common illnesses that kids suffer from.
Things found around the house can effectively cure diseases as well as any store bought medicine. Some simple remedies for the common illness have been listed below. These remedies may help a child to feel better. But if the child does not feel better with these remedies, you must immediately consult a doctor. Sometime these remedies can be use to help the child feel better temporarily and sometime they can provide permanent relief. So, you must use your judgement while trying these remedies.
Have a quick look at the remedies for dealing with common illnesses in kids. If your child is allergic to below mentioned ingredients, do not try these remedies. Consult your doctor before trying these remedies on your child.

1. Fever
No parent can say that their child has not undergone
fever
even once during their childhood. There is no escaping this illness. There are a number of simple remedies for this disease. One way of bringing down fever is to apply a wet cold washcloth on the kid's head. Keep fanning their forehead during the process. This will reduce their temperature.
Ensure that your kid is wearing airy clothes and make him or her drink lots of water. Sponge the body with a wet towel if your child can not take a bath. Feed him or her homemade soup and warm food. Soak roasted peas in a bowl of water and make them drink that water.

2. Cough and Cold
Another very common disease, cough and cold is the regular headache of parents everywhere. It makes your kid weak and drowsy. There are however some excellent
home remedies for cough
and cold. Make your kid take vapour from a pot in which you have added eucalyptus oil. You can also feed them garlic cloves as it is a great medicine. Make them drink rasam, which is a strong soup known to heal this ailment. You can also give them honey and
ginger
.

3. Diarrhoea
Kids tend to put anything in their mouth. They also put their fingers inside their mouth without washing it. As a result of which a lot of bacteria enter the intestines of the children. The children do not have strong immune systems that can easily fight with such bacteria. They end up getting
diarrhoea
, which is an ailment of the stomach.
Diarrhoea is bad for kids as it prevent them from eating at all, it can cause serious damage to health. Make your kid drink plenty of water. Give them a drink of water with sugar and salt in it. Keep giving this as frequently as possible. You can also grind poppy seeds and mix in milk. But if the condition of the child is not getting better, please consult a doctor.

4. Headache
Many kids suffer from headache due to playing in the sun or dust allergy. Instead of giving them the chemical tablets, try home remedies.
Garlic
containing vitamin C and sulphur is extremely effective for headaches. You can take a few cloves of garlic, crush it in oil and rub that on the forehead.

5. Constipation
Make your kid drink lots of water. Try to include food rich in fibre like fruits in their diets. Drinking carrot soup can also solve the problem.
It is better to apply natural remedies to solve the ailments that your kid might suffer. Almost all common illnesses have a natural home remedy. Try not to rely on chemical medicines all the time.

Which home remedies can help to deal with common illnesses in kids? Are home remedies safe for kids? What type of illnesses in kids can be cured with home remedies? Discuss here.