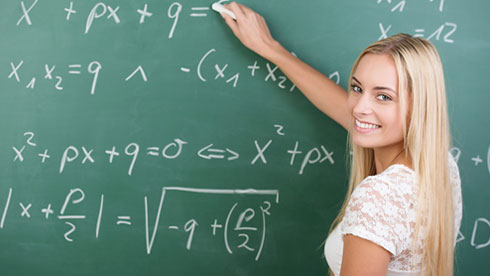 Math is a subject that has made parents since generations spend days in tension. Read on to learn some of the fun ways to teach Math to your children.
Solving Mathematical questions might be difficult, but what makes it worse is the child's lack of interest in the subject. So, to encourage children to solve Math questions, you need to help them have interest in the subject. However, there are some practical ways to make Math solution fun for kids.
How to Make Math Fun for Kids
Have a quick look at the tips for teaching Math to kids in a fun way.
Teach Math as a Game
Just keep in mind that children get drawn to things that are colourful and interactive. So, you can make use of this instinct in introducing Math in your child's life. In this way Math solutions will become fun activity for your child and he will not take it as a subject which he needs to study.
Circle Math Game
Since addition and subtraction are the basics of Math which helps in further calculations throughout life, you need to work out a DIY game. Make circles on a paper with different colours and depending on the age of your child make further addition of numbers and signs of addition and subtraction to help your child learn Math as he plays.
Make sure you adapt the game keeping in mind your child's age. There are many Math games that you can try and add more fun in your child's learning life.
Build Your Child's Confidence
If you find that your child is not grasping very fast, build up his confidence in different ways. He will do well and start feeling positive about solving all questions that he found difficult before.
Use Real Life Examples
The best way to help children gain interest and confidence in Math is to let them practice Math in real life situations. For example –
If you are buying an ice-cream or chocolate, let your child add and subtract the amount.
When playing building blocks, introduce them to different shapes and different types of triangles. You can also teach area, parameter and volume.
If you order a large pizza or cake you can teach your child fractions.
The main thing here is that you will have to take the initiative and look out for chances when you can let your child learn some Math.
Bring in Interesting Facts About Math
Children are inquisitive by nature. Instead of introducing the Math problem directly, you can make stories and help them understand the situation before he applies any formula and solves the question. You can get lots of facts by researching on internet and by reading books specially designed to give facts about Math and Mathematicians.
Develop a Progress System
Kids need to practice Math continuously so that they score well. Make it certain that you take some time out daily and help your child initially and then take care that he works on the problems on his own. The main thing is that his interest should increase and so his confidence will.
The above tips will be helpful for those parents who want to introduce Math in their child's life in an interesting and fun way and making the entire process stress free as well so that their children develop interest in math and hence confidence which will help them solve any kind of math question in their lives.
Why do most of the kids find Math subject boring? How to encourage kids to develop interest for Math? How to ensure that kids get good marks in Math subject? Discuss here.