Tsunamis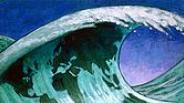 Last week was Tsunami Remembrance Week. Teach your child about Tsunamis, what causes them, and what they can do if a Tsunami strikes.

Earthquakes often take place on land. But when a powerful earthquake takes place somewhere under the sea or ocean, this can produce huge waves which can come crashing down on land, wreaking devastation.

Not all earthquakes produce tsunamis, but when they do, the results, as we have seen on the 26th of December last year, can be shattering.

Underwater landslides can cause tsunamis as well. Tsunamis formed in this fashion don't travel very far, and are concentrated around the region the landslide took place. In 1958, and earthquake in Alaska generated a landslide. Although the landslide and earthquake both happened on land, a lot of the land ran into the bay. This generated a huge tsunami, which rose around 1700 feet! Two people were killed in this tsunami, as the region was sparsely populated.

Although fairly rare, volcanoes too are known to cause Tsunamis.

When the Tsunami lashed Asian shores, people were dumbstruck. Many didn't know what was going on, and what they should do. Few people knew what a Tsunami was or what to expect, and thousands lost their lives and their livelihood.

Hopefully none of us will ever encounter a Tsunami, but it helps to have some information on what to do in the event one does strike.

Climb to the top of a building

Running away from the Tsunami on road will not help. No matter how fast you run, you cannot outrun the furious waves. What you should do is try and run upwards, and reach a destination that is on a height. Although there's no guarantee that the tsunami will not rise even higher, its probably the best move you can make under the circumstances.

Try and hold on to something

Even more dangerous than drowning is the fact that you may get thrown around by the waves. Once you're caught in the wave movements, there's no telling where you may land. If lucky, the waves may deposit you high on a treetop, and you may be able to rest here safely until the water subsides. Some may be thrown against a hard surface and get seriously injured, or even lose their lives.

Expect debris

There will be a lot of debris in the water, which may come at you and cause hurt. Think of all the things that go into constructing a home - wood, nails, pipes, bricks, glass… Think of all the things that could get swept up in the water - like cars, bikes and other vehicles, lampposts, barb wire and so on. All these things will be in the water, and these things too can cause grave harm.

Heed nature's warning

If you live near the coast, feel an earthquake, and see a sudden rise in the water level or strong waves starting to form, head immediately towards higher ground. If the tsunami was generated further away, the waves will slowly start to get higher, giving you time to plan your movements. However, if the tsunami was generated close by, you may have just a few seconds to act.

Hold on to something that floats

Once the waves stop, there will be flooding, and if you are in the water it may be difficult to survive unless you have something to hold on to or to that will help you float. Even something like a tree trunk can save your life. Kasturi, who had taken shelter on a rooftop during last year's tsunami, grabbed on to a tree trunk as it passed - just in case she may need it. Soon, the water level started to rise, and Kasturi climbed on to the trunk. She was on it for hours, before she was finally rescued. It saved her life, but others trying to swim it out, couldn't hold on for so long.
Back to Previous Page Back to Learning


INDIAPARENTING IN THE NEWS
HOME | Comments or Suggestions | Resources | RSS
Site Map | Contact Us | Advertise with Us
All Rights Reserved Worldwide. (c) 1999 - 2018 India Parenting Pvt. Ltd.
Please be sure to read our Copyright, Disclaimer and Privacy Policy