Celebrate Diwali with your children and family members in a traditional yet interesting way by carrying out these top 10 best Diwali activities.

The festival of Diwali will be arriving very soon. It is year's biggest festival. So, a lot of preparations are done for the wholehearted celebration of this festival. During this time you can teach a lot of interesting things to your children. You can carry out some activities with them through which they can learn a lot about Indian Culture. Let us take a quick look at the top 10 best Diwali activities for children.
Best Diwali Activities for Children
Here is the list of best Diwali activities for your children.
1. Decorating Diyas
You can buy plain brown Diyas that are available in market. Your children can decorate them using the decorative material that they usually use for their school projects. These decorative materials include things like glue, beads, laces, marble paper, glitter etc. They can even paint these Diyas if they love painting. You can show them some images of decorated Diyas online so that their minds get stimulated to think how they can beautifully decorate their Diyas. Buy bigger Diyas so that they find it easy to decorate and paint them.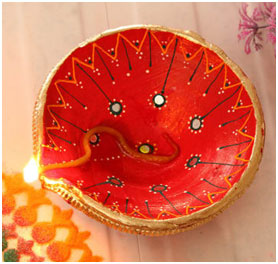 2. Lantern Making
Encourage your children to decorate the house with small lanterns that they can easily make at home. All you need is a card paper, glue, scissors and decorative material. You can refer the following image to teach your children to make small lanterns.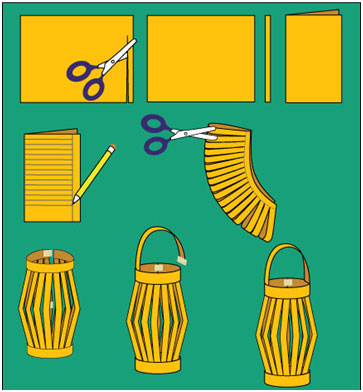 3. Making Diwali Greeting Cards

Making Diwali greeting cards is a simple activity which children can enjoy. This time also teach your child to courier it to their friends and near and dear ones. There is no special training required for this activity as children are already very good at it. You just need to provide them with right kind of supplies, good ideas and motivation. Some of the samples of Diwali Greeting Cards are pasted below for your reference.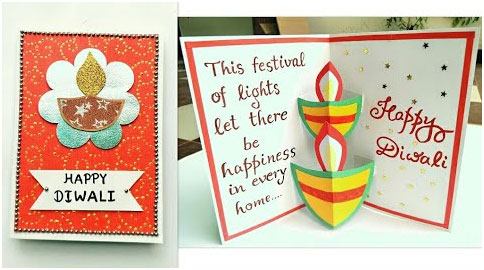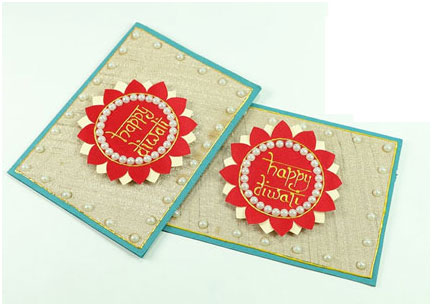 4. Rangoli Making
Making Rangoli on the occasion of Diwali is a fun activity. Rangoli of different colours attract children and they are very excited to make beautiful designs with it. It is not necessary to make children draw traditional Rangoli designs. They can draw their favourite drawings which may include drawings of animals, birds, flowers or their favourite cartoon characters. Here are some simple Rangoli Designs for your reference. While helping your children draw Rangoli tell them the importance of making it on the occasion of Diwali.
5. Decorating Aarti Thali
Diwali is a festival of worshiping the gods and goddesses of wealth. A decorated Aarti Thali can add a lot of charm to this celebration. It is very simple to decorate an Aarti Thali. It is very similar to decorating Diyas.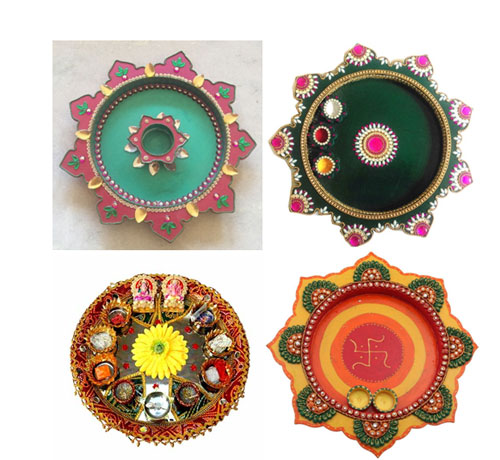 6. Diwali Photo Frame
It is very simple to make a Diwali photo frame. You can put your family photo of Diwali celebration in this frame. You just need a cardboard and a decorative material to help your child make a wonderful frame. Take a rectangular cardboard and cut a rectangular shape out from it. You must ensure that the rectangular shape is cut-out from the cardboard depending upon the size of the photo. You can allow your child to colour the boarder of the frame with the colour of his or her choice. The boarder of the frame can be decorated with the different kinds of supplies like cut-outs or stickers of stars, Diyas, crackers etc.
7. Diwali Gift Boxes
You will experience a special bliss while giving
Diwali gift
boxes to your loved ones that are decorated by your children. You can get ready made boxes and give your children full liberty to decorate it. You will find some examples in the images that you can see below.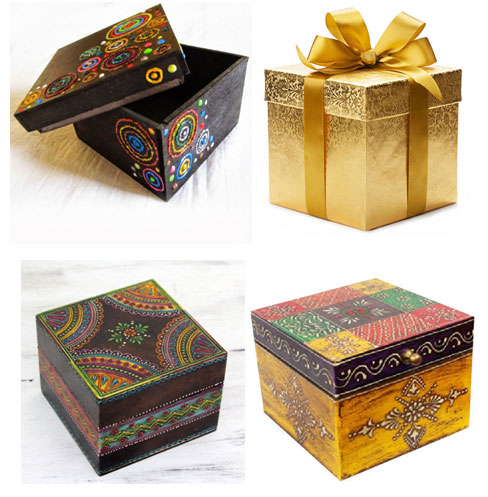 8. Making Foot Prints
Diwali festival is celebrated to invite wealth and prosperity in the house. Goddess Laxmi is the Goddess of wealth and prosperity. Making her footprints in the house marks her entry. You can encourage your children to make such footprints which you can use
during Laxmi Pujan
. You can teach your children to make footprints as shown in the picture below. You can give them a cut-out of foot-prints and ask them to decorate it.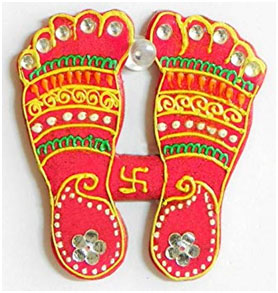 9. Food Art

You can make special food art with your children which can become a highlight of your Diwali lunch. This food art include making Diyas, lanterns or
Rangoli design
with the help of food. You can check-out an example in the picture provided below.
10. Eco-friendly Fire-Crackers
Say no to fire crackers this year and celebrate an Eco-friendly Diwali with eco-friendly firecrackers. Make paper fire-crackers or use other eco-friendly alternatives instead of using firecrackers. Click on the following link to find
Eco-friendly alternatives to firecrackers
.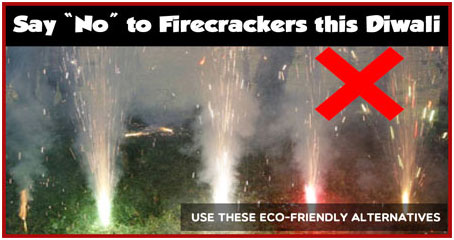 By carrying out these activities you can have a fun and memorable Diwali with your children this year. So, do not forget to carry out all the above mentioned 10 activities with your children without fail.
What kind of activities can parents carry-out with children? How to keep children involved during Diwali vacation? How to have a best Diwali celebration? Discuss here.