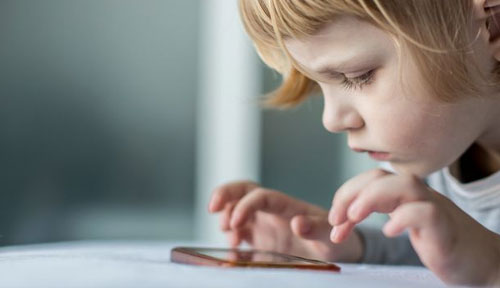 Mobile phones can cause adverse effects on the brain development of kids. The radiation emitted from mobile phones cause various health hazards. Let us have a look how children are being affected due to mobile phones.
Latest technologies help us to do the toughest of jobs in the shortest of times. Computers and mobile phones were invented to save our time. But science and technology has given a boon as well as bane to our society. And the children are the most affected. They are falling prey to the curses of science.Researches show that the bone marrow that is present in the
brain of a child
can absorb about 10 times more radiation than what an adult brain can absorb in a given period of time. Even a call lasting for just two minutes can hamper the chemical balance of the brain which can last for up to sixty minutes even after the call has ended.
Effects of Mobile Phones on Child's Brain
Have a quick look at the ways in which
mobile phones
can affect child's brain.
Behavioural Problems
A kid spending most of the times playing with mobile phones and keeping indoors most of the times are more prone to develop
behavioural problems
than kids spending time outdoors and playing with other kids.
Mood swings
Mobiles are the main reasons behind mood swings amongst kids. Kids trying different applications on hi - tech phones are more prone to these kinds of problems.
Memory Loss
Because of the radiations that mobile phones emit, the brain loses its thinking capability and results in the
memory
loss if the kids are exposed to such radiation in the maximum hours of the day.
Learning Disability
Because of the advancement of technology kids are forgetting the normal way of learning. Everything has been made easier with the advents of newer technology. All kinds of mathematical problems can be solved through mobiles which are more like the mini computers. Ask a child to manually calculate, he or she will want to take help of mobile phone even to solve the simplest of problems. Mobiles are hampering the normal learning ability in kids.
Aggressive Behaviour
As mobile phones are keeping the brain continuously busy without any rest, kids tend to be more annoying and at the top of their temper. They tend to become more violent and irritated even at the normal discussions. This in turn hampers their social life. They cannot become normal and candid easily with others. They prefer to remain all alone and be with their own selves without interacting with others.
Inability to Concentrate
The brain develops many problems when it is continuously exposed to
harmful radiations
. The normal functioning of the brain is hampered. Kids always think of the things going in the mobile phones. They cannot concentrate on their studies and as a result their marks start falling. They start facing embarrassment from their parents as well as their teachers. They become frustrated and develop psychiatric problems.
Attracted By the Illusions
Access to social sites and making fake friends online attract the kids to a world of illusions, where no reality exists. But the kids become so engrossed in the illusive world that they do not want to come out of the illusions even if they are continuously warned by their parents and other well wishers. This ultimately brings in the downfall of the career of the kids.
Harm Body Cells and Damage the DNA
This is the most harmful effect that mobile phones can cause. The radiations break the single and double strand DNA which cannot be repaired by the cells again. These mutated cells cause cancer, and ends the entire life.So do not let your kids get gripped by the mobile phones. Let him or her enjoy other sources of entertainment. Ask him or her to go out and play. It will help him maintain a healthy body as well as a healthy mind.
Is it necessary for kids to use mobile phone? When should kids be allowed to use mobile phone? How does mobile phone usage affect child's brain? Discuss here.