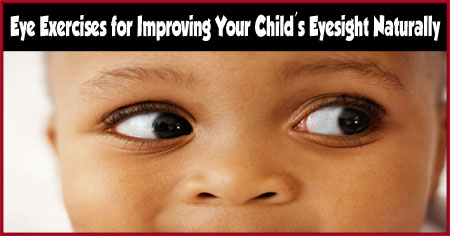 Kids should be encouraged to perform eye exercises so that their eyesight can be improved and eye problems can be prevented. Read on to find about the simple eye exercises for improving eyesight of kids.
Parents always want their children to remain healthy and fit and parents want their children to be successful in every sphere of life. Nowadays, parents have become conscious about health of their children. In the recent time, children suffer from different types of eye problems. They have strained eyes, poor vision, eye allergy and different types of severe
eye problems
. Eye problems get resolved by getting glasses or wearing contact lenses but if parents want their kids to stop using lenses or glasses over the period of time, they can make their kids do exercises for
improving eyesight
.
Why Kids Should Opt for Eye Exercises?
By doing eye exercises on regular basis, kids can have their eyesight improved and maintained. Exercises help the kids to maintain their eyesight naturally and there is no need to use eye glasses or lenses any more. By using lenses or glasses, a damaged eye can be made to work in a perfect manner but the root cause of the problem cannot be addressed but regular exercises can address the root cause of the eye problem.Eye exercises are safe and easy to perform. Very young children should do
eye exercises
in supervision of their parents or professional trainers. Below are some important eye exercises for the kids that will help them improve their eyesight. Although these exercises are safe, parents must consult a doctor or a specialist to check if such exercises will suit their child or not to prevent any kind of problems.
Eye Shift Exercise
Children should learn to shift their
eyes
very quickly between two objects that are placed at different distances. For this exercise, a pencil and a calendar are used. The calendar has to be placed on the wall and the kid has to stand at a distance of 10 feet from the wall keeping the pencil vertically in front of the eyes. The kid must focus on the pencil and look at the numbers written on the calendar. The child has to look at the pencil again. This shifting of eyes from pencil to the numbers of the calendar and back again on the pencil has to be done 10 times.
Pencil Push Ups
Pencil push ups help in reducing convergence insufficiency in a child. When this happens both the eyes of the child cannot work together to get the vision of objects kept at near distance. The symptoms of convergence insufficiency are blurred vision, double vision, headaches, and squinting. For pencil push ups, a child has to keep the focus on the letter that is written on a side of a pencil while the pencil is moved closer to the nose of the child. The movement of the pencil should be stopped when double vision starts appearing. This exercise is recommended for 15 minutes 5 times in a week.
Tracking Exercises for Eyes
Those children who find it difficult to skip over words or switch between letters can get rid of this problem by doing tracking exercises for eyes on regular basis. For doing this exercise, a ball has to be tied to a string and then it should be hanged in front of the child's nose. Then swinging of ball has to be done in back and forth direction and the child has to watch the ball as it is moving. Then the ball has to be moved sideward and the child must watch it as it moves. The child must only move the eyes in the direction where the ball is moving and no movement of head should happen.
Rotation of Eyes
Another simple yet fruitful eye exercise for the kids is rotating of eyes in clockwise direction and then rotating the eyes in anti-clock wise direction. This exercise must be repeated many times.The above eye exercises are very useful for the children as these help in
keeping their eyes healthy
so that they have healthy vision for years to come.
How to prevent eye problems in kids? Can eye exercises help to improve eyesight of kids? Which exercises can be performed by kids? Discuss here.