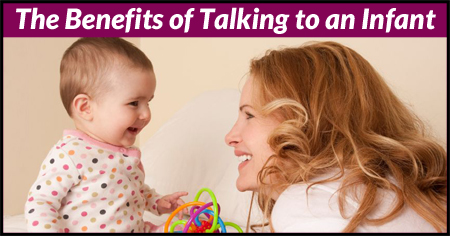 Many people roll their eyes when they see someone talking baby talk to their little one. Although silly it may seem, talking to children right from the birth to at least three years of age helps in her overall development. Read on to learn what the benefits of talking to your little one are.
You might have seen some mothers talking to their little one even if it seems the child does not understand a word. Well, you must be surprised to know that talking to your little angel is one of the crucial things you can do to make sure overall success in her life.Your baby starts learning language by listening to you. When your child is just an infant, she will not understand everything you say, but catch your way of talking and she will understand dozens of words before she starts speaking.
Benefits of Talking to Small Infants
Have a quick look at the benefits of talking to small infants.
Help Her Learn to Talk
Talking to your child right from birth will not only help her speak earlier, but also help her build a good vocabulary and
speak
words clearly as well. The more the
child will hear
clearly and correctly pronounced words, her words will come out with more clarity.
Give Her a Head Start in Life
Talking to your child is an easy and guaranteed way to help her give a head start in her life. For some of you talking to a newborn might seem pointless, but since ear and part of the brain that responds to sound is effective right from birth, you can start talking to your child right after birth.
Better IQ and Better Test Scores
Results show that children whose parents used to talk to them right from birth or few days after birth, have better IQ level and they score better marks in test when they go to school. When you talk to your infant, she is absorbing much more than you realize.
Recognize Things and Actions Better and Early
When your child is few months old and you talk to her like "Let's take bath" before taking her to bath or "It's time for a nap" before putting her in bed, she will learn these action-oriented words very early. Perhaps you can see the response in her eyes and figure out what excites her and what are the activities that are of her interest as well.
Introduce Your Child to Education
By reading out stories or cuddling with your child and showing her pictures you introduce her to the world of education very early. Since children get attracted towards colourful pictures, start with picture books of animals, flowers and other things that your child also sees in and around.
Teaches Her How a Conversation Works
When you talk to your child, make it in the form of dialogue so that you give her a chance to respond. May be the reply would be something like "Ooh goo bah" sort of thing, but this is the time when your child has started learning how a conversation is made.
Avoid TV Viewing
Remember, TV character does not react to your baby. Only back and forth interaction will be helpful for the
speech development of your child
. When your child tries to say something you smile and respond and this encourages your child to do that again.Experts are of the opinion that there are many results showing that when parents talk to their child right from the time they were infant, the
language development
is much better compared to those whose parents did not talk to their infants. Remember, the way you treat your child is the way she will see herself.
Is talking to small infants beneficial? How to talk to small babies? In what ways does talking to infants improve their speech and brain development? Discuss here.