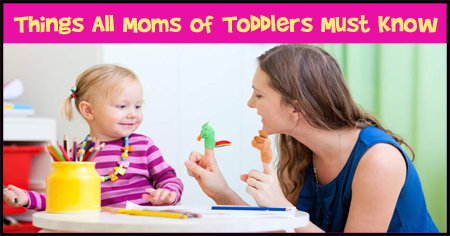 Are you a mom of a toddler? Are you wondering why some things about your toddler's growth are surprising? Read on to find answers to your parenting queries right here.
Toddler years are amazing, wonderful and challenging for a mother. Amazing because sometimes you will be surprised to find how such a tiny tot can create havoc and wonderful because she is your child and you cherish her developments as a child. She is special for you, no doubt.Sometimes you find that it is a great challenge to deal with the problems you face due to your tiny tot. Your concern for her safety and proper
growth
and development makes you worry a lot. Here are some questions which you will find familiar as you too have asked them some time or the other.
1. Why is potty training so difficult?
Even if you have read articles and planned step by step implementation of the
potty training
for your child, it is a real challenging task. Sometimes even if you demonstrate, the child is not ready to sit. She is used to popping in the diaper and so that is what she would prefer.
2. From where does my child get energy?
A toddler is often hyperactive and if you play with your child you will find that even if you are exhausted, she is full of energy. Kids at this age have lot of energy and great sense of curiosity. They love to explore everything.
3. Why is she never hungry?
It does not matter when you ask your child to eat, the answer is 'no'. This makes you worry because health and nutrition are important factors to help your child have a good
growth and development
. In fact, children do not like the idea and process of feeding. They feel trapped and imprisoned for that time period.
4. Where does she think she is going after running from me?
Toddlers are often confined to home and when you find your tot running from you, this question arises in your mind. Toddlers run from the person who feeds, dresses them and prevents them from doing things. In fact, nothing of practicality matters for a child so young. The only thing the child thinks about at that time is freedom.
5. Why do they scream anytime and anywhere?
Your child is not concerned about the place or situation before she starts screaming or throws tantrum. Even if you try to calm her down, she might even raise her voice especially when she is in public place.
6. Why does my child stick to me when we are outdoors?
Small children fear strangers and so they stick to their moms. It is a healthy and protective fear and children should not go to people they do not know.
7. Why my child thinks I would leave her each time I go?
Every time you leave your child to do something, your child starts crying and thinks you are going to leave her. It is a natural fear every child has. Follow a healthy good bye routine with your child and always leave her by a trusted caregiver.
8. What is it about the pink plate?
Children are very particular about their things, wants and needs. You may offer varieties of plates and cups, but if your toddler wants a specific plate, she will not stop.
9. Can a young child survive on a piece of bread or pasta the whole day?
With so many activities and physically challenging works your toddler does, it makes you really feel surprised how she can carry them on by eating so little. Pay attention to the nutrition, but let your child have her way. She is just a child, do not forget that. Forcing child to eat may not work. Make sure that you develop a good eating schedule for her.
10. Do you need to teach how to lie?
Sometimes it really surprises how a toddler lies. Even if she scribbles on the wall in front of you, she will not just deny but put the blame on anyone – say a cat or the dog.Raising a
toddler
is not an easy task. Teach her how to stay calm. Explain to your toddler what is real and have patience when you are potty training or teaching discipline to her. The best thing is to start as early as possible with endurance and perseverance.
How to raise a toddler? What are the ways to make a toddler eat well? Which are the important growth milestones during the toddler years? Discuss here.