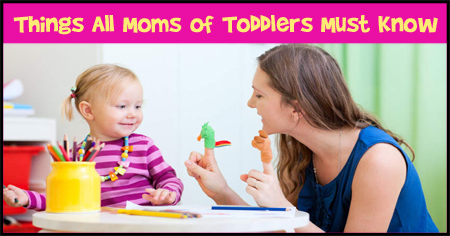 Are you a mom of a toddler? Are you aware of the things that you should keep in mind as a mom of a toddler? Read on to know about the things all moms of toddlers must know.
One of the most demanding parenting phases for a mother is when her child is a toddler. For the moms of toddlers it is essential to learn the important things to keep in mind while raising a toddler.There is no doubt that you cannot deviate from the entire day routine when you are the mother of a
toddler.
Toddlers are also going through lot of developmental changes and they need to stay safe and secure. You might have to ask same question, maybe, number of times during the day and read the same story at bedtime, but till the time your toddler is happy and good, you have managed everything nicely.
Things You Must Know if You are a Toddler's Mother
Let us take a look at the things all mothers of toddlers must know.
Language Interpretation
A child starts forming proper sentences by the end of second year. So, your toddler will simply try to say things by putting in one or two words in front of you. You have to understand each other and for this, it is better if you keep your phrases and sentences short. Also, repeat them often so that your child understands and catches things easily and faster as well.
Showing Understanding
When your child is upset or is yelling or screaming, show her that you understand that she is angry. Try to calm her down and then find out what happened. You can watch out the tone of your child or her gesture to figure out that she is about to scream.
Being Patient
Toddlers might be at times very easy to handle and sometimes very difficult to let you do your basic tasks. When such situation arises, you need to have a sly strategy and have lots of patience and understanding.
Skill of Getting Involved
Toddlers find something that they find interesting and you can use that to make her eat, sleep and follow other instructions also. So, let your child share her passion with you. Just sit back, relax and listen to her. Do not forget to say "WOW" at times and show your interest and amaze through your gestures.
Safety Measures
Your toddler will find almost everything exciting and new and would definitely like to explore, examine, and of course, taste them. Therefore, it is necessary that you know how to
childproof your house
and keep dangerous things out of your toddler's reach to keep her safe.
Encouraging Health Eating
Every mom must know how to encourage healthy eating during the toddler years. If healthy eating habits are cultivated during toddler years, these habits will be followed by a child throughout her life. Therefore, make sure that you keep your toddler away from junk foods, candies, colas, foods containing dies and colours etc. Never introduce such foods to her and be a good role model. Always feed her healthy and freshly cooked homemade food.
Spending Quality Time
Remember, this is the time when your child will like to spend more and more time with you. She might need you many times during day and she would count on you to show her how to have a great time. Enjoy the time you spend with your toddler because this will go a long way. It is definitely going to strengthen your bond with your child. Get involved in various
activities
like colouring,
painting, crafts
and reading for spending quality time with your toddler.Distinguish between your needs and your child's needs. Pay attention to what your child feels and wants. Choose between your momentary relaxation and your child's long term goal. Children respond best to what they see their parents doing. So, have patience and wait. This is a special time of your life and therefore, you should enjoy it. It might be full of worries and adjustments, but it is also full of wonder.
What are the important responsibilities of a toddler's mom? Which things should be kept in mind while raising a toddler? What can moms do to ensure healthy growth and development of toddlers? Discuss here.