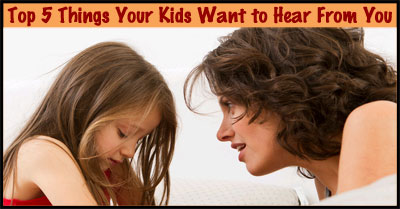 Many parents are aware of the effects of things they say to their kids. Therefore, it is essential to say certain things which can create positive impact on their growth and development. Read on to learn about the 5 things your kids need to hear you say.
All parents want to bring up their children in a healthy and happy environment. They take care of their words and action so that their children grow up to be responsible and worthy adults.However, parents do make
mistakes
and there are many reasons behind them. Their hectic schedule, personal or professional stress and many more factors work behind their negative interaction with kids.If you take some time and find out what your kids want to hear, you can make up for many of your mistakes, to a great extent. Here are some points that will help you build a strong relationship with your kids and help them grow up to confident and gratified individuals.
5 Things Your Kids Want to Hear From You
Have a quick look at the 5 things your kids want to hear you say.
1. "I Love You"
Even if this is quite natural and obvious, you need to say directly to your child that you love her regardless of anything in life. These words are excellent moral boosters and
encourage children
to do their best in life. Just make sure that you say it with all the feelings because kids know when they are empty words and this might have adverse effect also.
2. "I Am Always There for You"
When you say to your kids that no matter what happen in life, you are there for their support, they get the inspiration and they do not fear much about anything, even
failure
. Even when children grow up, they need to stay assured that you are there for them anytime in their lives. All this is about commitment and once your child knows this, he will be fearless and confident in doing everything in life.
3. "I Am Sorry"
No one is perfect. So, if you make any mistake, simply say "I am sorry" to your child. Just keep in mind that it should be sincere and honest conversation. Do not assume that if you make mistake your child will not understand. Some day in life she will figure out and that will be hurting for her. Moreover, your children need to know that since everyone makes mistake, one need to admit it. This will also make you a
role model
in their lives.
4. "I Am Listening"
You must have noticed that children want to say a lot of things when they get back home from school or even from the playground. Make it a point to sit and listen to your kids. If they do not come straight to you, you should make the move and ask, "How was your day?" This will not only make your child feel close and special, but also help you understand what is going on in her life. On the other hand if you do not listen to them, they will start making their own perspective and opinions. So, in order to know what your kids feel, what makes them happy and what worries them, you need to listen to them. No need to say that this should be honest effort from your side to make your child feel heard.
5. "You are Important and Special for Me Than Anything in the World"
Most of the parents know that this is an obvious truth. However, your children should know that they are most important for you so that they feel secured, loved and special even when they grow up. You need to say it clearly in words because kids do not have the capability of understanding gestures. Your words and action will remain in their mind forever. Nevertheless, this does not mean that you spend all your time with your kids and give your job the backseat. This means that your kids should know that they are important in your life.No matter how busy you are, take some time out and spend time with your kids. Say the 5 things your kids want to hear from you as often as possible. Your children will always have positive attitude in life and high self-esteem as well.
Which phrases do kids like to hear from their parents? Which parenting phrases can help to improve the parent-child bonding? Which things should parents always say to their kids? Discuss here.