How To Use Straightening Irons -
by Editor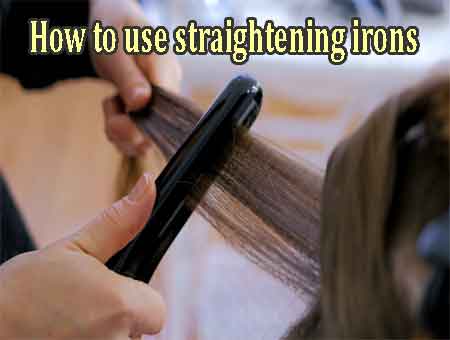 Learn to use a hair straightening iron and let your hair speak your style statement. Straight hair is just a slide away.
Straight silky flowing
hair
is what most women desire. Hair is a women's crowning glory which only appreciates with love and care. Hair care products and hair treatments have been around the world since ages. At present straight
hair
seems to have captured the hearts of millions of women. Today, a woman with the curliest of tresses can have the straightest of hair. It is no secret that a straightening iron can press out all those unruly waves and curls to a sleek, shiny mane. Straight hair is easier to manage and there is a chic quality attached to them that makes them a hot favourite amongst women of all age groups. Straightening irons have now become an inseparable appliance for any
beauty
makeover. If you fancy straight hair but find it difficult to use straightening irons, read on to get some basic lessons on how to use a straightening iron.
Steps for using straightening iron
Here are some easy steps which will help you learn to use a straightening iron. Follow these simple tips and get lovely straight hair falling on your cheeks. This method keeps hair straight till the next shampoo. Sprinkling water and excessive sweating may bring back the waves. Avoid rains and running around too much to maintain the look.
1. Wash your hair using a good shampoo and a conditioner. Dry it using towel. 2. Apply hair protection products on your hair before straightening. You can use a combination of straightening balm and hair moisturiser or a hair serum. Avoid applying these products on the roots of hair. 3. Dry your hair properly before using straightening iron. 4. Brush your hair well so that the hair protection products applied are spread evenly through the hair. 5. Make several sections of your hair using clips. 6. Use thermal protection spray to protect your hair from heat. Spray it on the each section of hair from the distance of about one inch. 7. Plug your hair between the irons and glide it down to the end of hair, just like using a comb. You can use a comb to make this process easier. Start from the top exerting pressure and glide the iron towards the bottom of your hair. Repeat the process for all the sections of hair. 8. Apply smoothening product if possible after you finish straightening your hair. As frizzy hair gets settled your hair will appear smooth and attractive.
Now, that you know the process of hair straightening, all you need is a good
hair
straightening iron. Avoid using other heating appliances as it can cause
hair fall
and damage. Make sure that you buy a good ceramic coated hair straightening iron. Frequent straightening of
hair
is not good for the health of your hair. You can try it for special occasions.
Hair
straightening exerts pressure on
hair
making it weak. So it is necessary that you take proper care of your
hair
.
Oil your hair
and
massage
it regularly to make your
hair
strong. When you use
hair
straightening irons, make sure that you also use proper
hair care
products thus preventing
hair loss
. All the best!
Do you fancy straight hair? Do you use straightening irons? How often do you use hair straightening irons? To share your experiences, views, and tips, click here.
Name:
Sarika
City:
Kolkata
Comments:
I like straight hair but was scared regarding hair fall. So I never used hair straightening iron till now. After reading this article I feel that hair strengthening using straightening irons can be done occasionally. Doing it occasionally does not harm the hair. Especially during parties it is nice to have a new look. This article has motivated me to straighten my hair. But it is equally important to take proper care of hair as it might start falling after that. I am very eager to see my self with straight hair and will get it soon. Will try it at home it self.
---
Name:
Manisha
City:
Mumbai
Comments:
I have seen many girls with this fusion hair style. It is good for those who do not want to make their hair completely straight. It is making front hair straight and giving a nice cut and rest of the hair is curly. Even many actresses like Rani Mukherji and Katrina Kaif are having this hairstyle in some of their movies. It looks nice and I think it can suit any face. This style is now becoming illustrious and is liked by many of the girls and women. It is good that you do not have to spoil your entire hair. Those who do not want to go for the entire hair straightening they can go for front hair straightening.
---
Name:
Jasmine
City:
Australia
Comments:
I use control freak products for my hair care. I think that hair serum is good for use during hair straitening. I find it comfortable to use these products when I straighten my hair. But I have noticed one thing that frequent straightening causes hair loss and damage. The dead strand looks awful. So now I do hair straightening occasionally during parties. But I use the same Control freak products whenever I do hair straightening. But it is always better to be on a safer side. It is not good to exert pressure on hair which results in hair fall and damage.
---
Name:
Julie
City:
pondichéry state
Comments:
hello, well i use a straighter coz i hav frizzy hair but i really dnt knw which shampoo or hair product to use after or before straightening..wat is the best in india !!?? plz do tell me ...
---
Name:
neha
City:
mumbai
Comments:
i iron my hair after every wash...im so addicted to it....but i dnt use any product before starighten it n my hair is jus fine
---
Name:
kiran
City:
Delhi
Comments:
I like you method.
---
Name:
tafseen
City:
mapusa
Comments:
it was great watching it.now i know how to iron my hair without damaging it.
---
Name:
Ashwini
City:
Bangalore
Comments:
the info was very useful..can u pls suggest me some good hair care products essential 4 hair straightning
---
Name:
Nina
City:
mumbai
Comments:
Hi, i use a straighter regularly after every hair wash.I naturally have wavy hair. Problem is i do not use any hair products before straightening. This has made my hair dry and lifeless. Yet i don&acutet use to discontinue the use of the straighter. can you please suggest a remedy?
---
Name:
shamna
City:
trivandrum
Comments:
can u suggest some good hair care products that don&acutet have any side effects ?
---
Name:
shona
City:
agra
Comments:
well nice tips ,would be beneficial for straightening my long curly hairs,thanks
---
Name:
Vanity Girl
City:
Delhi
Comments:
Hi All, I use a straightening iron very frequently, but not daily, cuz my hair stylist advised me against it strictly. The only leavein hair product that I use is Livon, and it works wonders for my hair. You can try that, if you haven&acutet already.
---
Name:
fueviegiommup
City:
Lilongwe
Comments:
Sen. John McCain met with an irritated pile at a townhall conference yon constitution listen to remodel Wednesday, on having to stop to talk and noted a woman partner who wouldn&acutet convey to a off yelling that she had to leave. The Arizona senator hadn&acutet that being the case far opened up the commitment at How I earn massive money online every month with forex trading McCain&acutes cardinal Phoenix church to questions when inseparable audience member continuously yelled through him. &quotYou&acutere going to suffer with to a stop or you&acutere contemporary to embrace to disappear,&quot McCain told the woman. When fastness guards approached to escort her unacceptable, he told her &quotGoodbye, see ya&quot to a mellifluous of applause.
---
Name:
manali
City:
mumbai
Comments:
where will i find thermal hair spray in india..
---
Name:
Shalini
City:
abudhabi
Comments:
can u pls suggest me some good hair care products essential 4 hair straightning that don&acutet have any side effects
---
Name:
pallavi
City:
indore
Comments:
My hairs are dry and damaged and i am using hair straighting iron. I want to know that is it the only reason to my dry and damaged hair?
---
Name:
adam
City:
chennai
Comments:
i purchased the hair straightner machine , it is a branded company. i like soft and straight hair but iam very afraid of using the machine because if i use the machine i may get hair loss problem more over i dont no how to use the machine but after viewing the indiaparenting website i get little bit confidence of using the machine. my personal advice is if you have the machine at home take it to the barber shop who knows well how to use machine and make your hair straight without any damage.
---
Name:
Anusha
City:
Mauritius
Comments:
Hi! I straighten my hair every time after i washdry them. I use Paul mitchel hair serum. I&acuteve been using this serum for over a year now... and it works pretty well... However, i must oil my hair often to avoid dry and split ends! Now i&acutem looking forward for a trim:)
---
Name:
Angel
City:
Pune
Comments:
Please advice me which thermal spray and hair protection serum can be used... and where is it available..?
---
Name:
sapna
City:
allahabad, India.
Comments:
Please advice me which thermal spray and hair protection serum can be used... and where is it available..?
---
More
DISCUSSION FORUMS ON
Hair Care
Where I went to go Bald??
Doston Mei Aik Shadi Shuda Aurat hn aur apne baal mundwana chati ho to plzz recommed me where i went to go bald??? ... - Shumaila Ahmed read >>

texturizing spray
Hello everyone,
I have medium volume hair but my hair type is very thin and silky. Due to which my hair doesn't hold curls well for long time. I heard that texturizing spray helps in solving the problem. Could you please suggest some good tex ... - Amulya Peru read >>

Texturizing spray for thin hair
Hello everyone,
I have medium volume hair but my hair type is very thin and silky. Due to which my hair doesn't hold curls for long hours. I have heard that texturizing spray helps to solve the above problem. Could someone please suggest the ... - Amulya Peru read >>

RE:Head shave
It's not a problem with this you will get beautiful hairs after that I'm having herbal hair oil for this ... - Ramkumar read >>

RE:Introduction
Welcome ... - Ramkumar read >>

RE:hair fall
I'm having home made herbal oil ... - Ramkumar read >>

RE:hair care
Using a hair shampoo on the kid can be quite scary, but using a tear-free baby shampoo has made my baby's bath routine smooth and tear-free. I got the Natural Baby Shampoo from the moms co and its soo good! ... - busywittymom read >>

Introduction
Hi all,
My name is Olivia and I'm new to this group ... - Olivia Benjamin read >>

RE:hair fall
Hi all we provide Hair Fall solutions. you can contact us. servicelevels21 - at - g - mail
Its cost also reasonable and we will keep guiding you. You will start getting results of our medicines (Ayurvedic only)within a month. ... - Ayurvedic Solutions read >>

RE:RE:Painful licecombing scheduled
Hi. Just remembered u today after wearing gajras ... - Mnt read >>