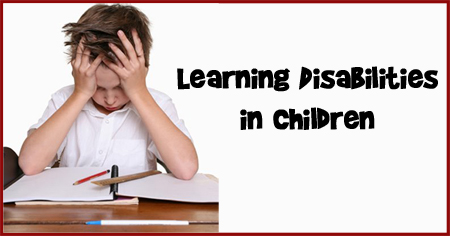 Some children are born with special needs such as learning disabilities. Such children need extra attention and care. Read more about learning disabilities.
Is your child suffering from a learning disability? Although, learning disabilities are difficult to diagnose, as a parent one should not lose hope. If you think your child is suffering from a
learning disability
, there is help. Take him to a person specialized in such problems or ask around in your neighbourhood schools. Some parents do not like to put their children in special schools however if your boy or girl is having trouble in a regular school, then you have to find out a solution.
What is a Learning Disability and Why it Should Not be Ignored?
A learning disability is a situation where a child is found struggling in school unable to read, write or do math properly. There is no single symptom or sign for confidently concluding or diagnosing the problem. Generally, children with learning disabilities are unable to understand and process information which makes them unable to study like others.
Here Are a Few Symptoms of Learning Disabilities
Difficulty in reading, writing, or doing math
Has trouble understanding directions
Poor memory
Trouble telling time
Short attention span
Doesn't stay organized
Although, these are some common signs and symptoms, each specific disability comes with its own set of problems.
Types of Learning Disabilities
Some common disabilities include dyslexia, dyscalculia, and dysgraphia. When you hear or read about the symptoms, it may make you tense or upset.When it comes to dyslexia, a person has trouble understanding written words. How can you expect a child who has trouble in reading or
writing
to cope up with the current education system?Modern education system is highly competitive hence children with learning disorders have a really hard time. With
dyscalculia
, a person has difficulty in solving arithmetic problems and math concepts.
Dysgraphia
is a difficulty wherein a child is unable to write and form letters properly in the space given. Apart from these, there are other auditory and visual processing disorders and non-verbal learning disabilities.All of the above point out to one thing which is that learning disorders are a medical problem and the child is not purposely doing anything. There is no point in blaming the children as it is a neurological disorder.
What Can You Do?
As a parent, you cannot do anything except loving your children and accepting the problem. There is no cure for learning disabilities and it is a life-long issue. However, diagnosing properly at an early age may help to avoid future problems. There are some types of therapies involved which can help your child and a strong support system in the form of parents also helps.You cannot 'cure' your child's disorder however you have to offer emotional and social support. Although, with right professional help your child's performance can improve, you should be cautious of those who claim that they can cure your child by doing some treatments.
Some Facts about Learning Disabilities
Education is very important in today's life and all parents want their children to be 'smart.' If you feel that your child is not performing well in school despite various comforts and opportunities, then you should try to find out if he or she has a learning disability. Proper awareness right from the beginning is very essential. Such children have trouble even in performing everyday tasks at home. Do not hesitate to come out in the open or seek help. It is said that children with learning disabilities are generally quite intelligent however it is the disability which sets them back.
Although, it is difficult to describe the exact reason why your son or daughter is affected, it should not discourage you and your spouse. With proper intervention from professionals and those around, your child's career can take off and he or she can even achieve a certain amount of success. There is nothing to be overly worried. Your child may look absolutely 'normal' however a proper diagnosis will provide you and your husband strategies to cope so that you know the alternatives and solutions.
What are the causes of learning disabilities in children? Which are the common learning disabilities in children? What are the treatments for learning disabilities in children? Discuss here.