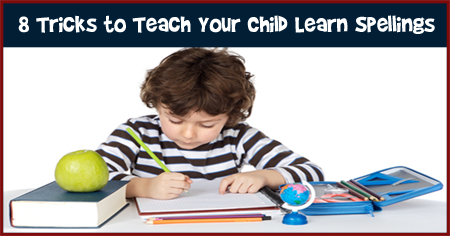 Learning spellings can be made easier for children with the help of some simple tricks. Read on to learn about the 8 tricks that can make learning spellings easier for your child.

Spellings are the stepping stones to education in a child's life. Hence teaching them the proper usage of letters for different kinds of spelling is of utmost importance. However, even if the English language is one of the easiest languages in the world, it can be tricky, taking spellings into consideration.
Teaching spelling to your child and explaining how the letters work for different words can be tricky and if not properly implemented, it can be detrimental to the child's knowledge about spellings. Here is a list of fun ways to teach your child how to spell properly.

1. Word Memories
We have all enjoyed playing
memory
games. We also enjoy them as adults sometimes. Kids will undoubtedly love this idea. Children love playing games. Hence teaching them through games and rewarding them at the end, not only encourages them but in the process, they also end up learning. You can start off by spreading out cards face down and take turns flipping the cards to find the matching pairs.

2. Trace, Copy and Memorize
This is a very effective way to teach spellings to your kids and also a very fun way to help them with their
studies
while doing homework. Make three columns. Name them Trace, Copy and memorize respectively. Make your child trace the letters and then copy it. Then in the third column, make him write the word independently.

3. Spelling Puzzles
Puzzles are fun to solve. They also help in the development of your
child's IQ level
. Spelling puzzles work both ways and have double the effect. You can cut several strips of paper and write a spelling and have your child cut each letter and then make him or her put the letters back together in the correct order.
4. Tic-Tac-Toe

Who does not love a game of tic-tac-toe? But learning spellings with a game of tic-tac-toe is something that will encourage your child and help him or her develop his or her interest in the learning process. You can stick letters of the alphabet on crosses and circles and make your child place a mark on the board to spell a word correctly.
5. Word Race
If you have two or more kids, you can try this activity. Make a list of words and call them out loud as they race to write the words together.
6. Karaoke
Without any doubt, Karaoke is one of the best and the most enjoyably ways to learn almost anything. Technology has gifted us with the computer and internet. You can download various karaoke files which will help your child learn spellings and enjoy it too. Various educational toys are also available which have the option to spell words. Many of the children's
books
also have musical devices fitted into them which help them learn.
7. Colouring
Colours are what kids are attracted to the most. Teaching your kids spellings through colouring activities and colouring books enhance their learning process. You can even print out colouring sheets or try your hand at making DIY colouring pages. Since kids enjoy colouring, they can even learn during their playtime.

8. Word Games
Word
games
like scrabble are fun to play. Not only are they enjoyable but also educational as it helps your child develop a good sense of the words and also their spellings.
Spellings play a very significant role in your child's education. Children are normally fast learners. What they learn in their childhood stays with them till the end. Just like teaching them moral values helps them grow up to be better people, knowing the right spellings will help them in the long run in their education.
How to teach spellings to children? Which tricks can help children learn spellings easily? How to teach phonics to preschoolers? Discuss here.