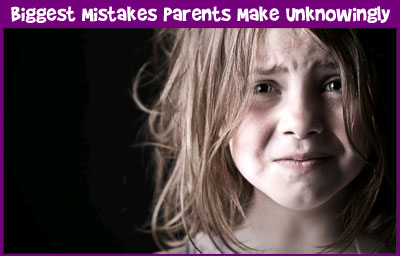 Even though you are a parent, you are human. So, making mistakes is not unnatural. However, you need to know them so that you correct it before it is too late. Read on to learn about the 10 biggest mistakes parents make unknowingly.
As a parent it is obvious that you want everything good for your child. However, we do make mistakes unknowingly which might result in big problems in the personalities of our children later on. Learn about the top 10
biggest parenting mistakes
so that you can avoid them and raise children in healthy environment.
10 Mistakes Parents Make Unintentionally
Have a quick look at the top 10 mistakes which parents make unknowingly or unintentionally.
Over Protecting and Pampering

As a parent it is obvious that you become over protective of your child. But always keep in mind that this will prevent him from facing the world on his own. It is good to let your child learn from his mistakes some times.

Insulting the Child

Many parents insult their children in front of others. This makes the child feel ashamed and might develop inferiority complex in him.

Having Unrealistic Expectations

Every parent wants his child to be excellent in every field. Remember, every child is different and not all can be all-rounder. Do not have unrealistic expectations from your child because this will harm his growth.

Comparing with Other Kids

This is one of the biggest mistakes parents make. This might have long lasting negative effect and your child might become aggressive or jealous. Make your children know that your love is unconditional.

Being Over Critical

Parents feel that criticism will motivate their children. But excess of criticism might backfire and your child might even give up easily.

Lack of Communication

Most of the misunderstandings occur when there is lack of communication between parents and children. Do not let this happen between you and your child. Talk to your child and listen to him intently. This will make you aware of the positive and negative things your child is going through and you can help him.

Fighting in Front of Children

As parents it is obvious you have arguments which sometimes even lead to fights. But if you fight in front of your children, they will have no faith in the institution of marriage. Avoid this so that your child's development is natural.

Not Spending Enough Time

The time you spend with your children is irreplaceable. No amount of money or toys can replace it. When you spend time with your kids you ensure a strong foundation of healthy relationship.

Never Try to Apologise

You teach your child to say sorry when he is wrong but you never do that. Remember, kids learn by watching their parents and if you fail to practice what you preach, you might convey a wrong message to them. If you apologise it will teach them that everyone should take the responsibility of what they do or say.

Never Try to Understand Child's Psychology

This is the most dangerous mistake that parents make. So, if you want to raise a mentally healthy child, it is very important you understand what kind of a person your child is. This will make him more confident and also feel secure about your relationship.
Parenting is not just raising children. It is about helping the next generation get empowered in the best way possible. This is also about setting a better future and a better world. Since parenting is a noble and monumental task, parents need to check their parenting style and ensure the reflections of each step on their children so that they make improvements from time to time. So, enlarge your awareness and give your child a hug and say you love him.
Which are the biggest and dangerous mistakes parents can make? How can parents avoid mistakes while raising children? How can parents correct their mistakes done while upbringing children? Discuss here.