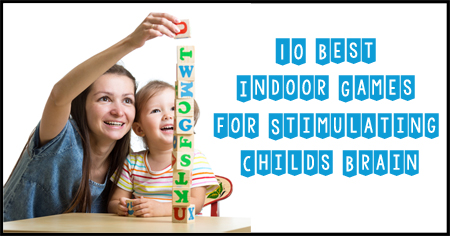 Some indoor games can help to keep children involved and at the same time stimulate their brains. Here is a list of top 10 best indoor games that can help to boost your child's brain power. Read about such games and encourage your kids to play them right away.
The early childhood phase is a primary period of learning anything. Playing games is the best way to teach your kids new things. Every parent must have a little time to spend with their kids at home and play any indoor games to revitalize their
brain function
. Indoor games can also be played while they are unable go outside to play.Indoor games have a huge advantage to play because of their beneficiary effects on kid's brain with fun. The mentioned below are top 10 indoor games that can keep their mind calm, active and also help them to focus on their work.
1. Snake and Ladder
This is very interesting game kids love to play. At very initial stage they can learn the numbers and can count them properly. It also boosts up their patience level. Their brain helps them to detect the patterns well, clear their concept about rules.
2. Maze
It is one of very important game for kids. This game helps them to learn how to tackle problems and overcome them. The obstacles improve their
memory
power and teach them not to make same mistake again. Mazes game always sharpens up kid's brain function.
3. Mind Metrics
Mind metric game helps to boost
intellectual level
to a greater extent. Every kid enjoys this game as they love to solve fun problems. This game revives their mind as they have to keep thinking for a long time. While solving problems their thinking power gets enhanced as they have to put stress on their brains.
4. Crossword Puzzle
Solving crossword puzzles boosts up kid's brain power by helping them to memorize more and more words. It also helps in developing their visualisation which is related to brain function by finding the correct words. They get the idea of vertical, horizontal, central and diagonal alignment by finding the words.
5. Building Blocks
A building block is one of the ideal games to play inside the house. This game helps them to plan and build new models. Playing with building blocks can help kids to improve concentration. This game encourages kids to put pressure on their brains to think innovatively.
6. Word Building
This is another indoor game that helps every kid to think intensely and sharpen up the brain function. Kids enjoy making a correct word from jumbled up letters or making as many words as they can form using five to six letters. This game helps improve presence of their mind.
7. Chess
Without a doubt
Chess
is the best game to stimulate your kid's brain function. It helps kids to learn how to plan to go forward with patience. This game also helps to improve the thinking skills of children.
8. Memory Game
The game is related to the power of your kid's memory. After watching fifteen to twenty objects let them write or ask them the names one after another. Your kids will definitely love to play this memory boosting game. This game helps kids to learn the skill of memorising things.
9. Active Listening
This game will help you to check your child's level of concentration and listening skills. You can play with your kids while relaxing. Just tell them stories and ask them a tricky question related to it. If they answer right, the kids are active listeners. This game can help a lot to boost child's listening skills and skills to interpret.
10. Treasure Hunt
It is a very easy game to play for kids. Hide any object anywhere at home and let your kids find it out. Just give few hints of the location. This game will uplift the power of your kid's brain to think and to reach the exact location.Playing indoor
games
with your kids will not only help you to stimulate their brains, but also will make your bond stronger with them. Enjoy precious time with your little ones by playing indoor games with them.
Can indoor games help to stimulate child's brain power? What are the different ways to stimulate brain power of children? Which indoor games can hamper brain power of children? Discuss here.