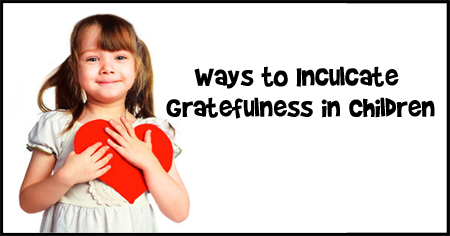 No one lives his or her life as planned or dreamed of. So, as a parent it becomes your duty to help your child learn to appreciate whatever he or she has. Read on to learn how you can teach your child gratitude.



Saying thank you shows that your child has good manners, but teaching children gratitude is an art. Showing gratitude and kindness to people when they are in need is not easy to pass on to your kid. However, there are ways in which you can teach your child to be grateful to everything and everyone who does good things to him or her no matter what way.
Ways to Instill a Sense of Gratitude in Your Little Ones

Here are some ways to inculcate
values
like thankfulness in your little ones.
Make it a Habit
Say 'thank you' whenever it is needed and see that your child understands this and follows suit. This will help you get into the habit of a lifelong practice and you will help your child say 'thank you' automatically when needed.
Be the Role Model

Make a real effort and set an example for your child. Never miss a chance to show gratitude to anyone who helps you. Be thankful to your child when he or she tries to keep his or her room clean and things well organized. Children follow what their parents do. So, be careful and never miss to show gratitude.
Opt for Long Term Strategy
This means that teaching your child to say simple 'thank you' is not enough. Let your child realize why he or she is showing gratitude so that he or she understands the purpose of 'thank you'. Remember, you need to do this each time you see your child in need of saying thanks to someone. Let him or her realize the love, care and concern of the giver so that he or she feels the need and gratefulness.
Thank Those Who Serve
Learn to thank those who quietly bring difference in your life. This will send a powerful message to your child.
Make it Simple

Remember that your kid is still very small and so you have to keep everything simple and understandable. Your child will definitely take notice of things.
Talk About Nature

Make your child grateful towards nature and help him or her do environmental friendly things in order to show their
gratitude towards nature
. Talk about the significance of rain for plants, herbs and flowers. Explain how we get our food and make them realize the significance of nature and efforts of farmer in life. Let them feel thankful about what they have and not feel sorry or jealous about the things they do not have.
Talk About Kindness
Talk to your child about helping others specially those who are less fortunate than you and your family. You can do something good and kind for others taking your child along. It can be for small and underprivileged children or helping senior citizens get a smile on their faces. Let him or her find happiness in volunteering rather in food and clothing.
Talk to Your Child

Make it a routine to talk to your child about everything he or she did and went through during the whole day. Listen to him or her carefully and ask him or her whether he or she thanked whenever there was a necessity. Even if your child did not do today, he or she will definitely learn to say and show gratitude with time.
When you are helping your child learn to show gratitude, you have to have lots of patience. Remember kids cannot be persuaded to show
appreciation
. With your gentle efforts and examples you will be able to grow a child who understands the significance of gratitude and
kindness for others
and shows gratefulness making it a way of life.
What kind of values should be inculcated in children? How to teach children to be grateful for what they have? What is the importance of inculcating gratefulness in children? Discuss here.