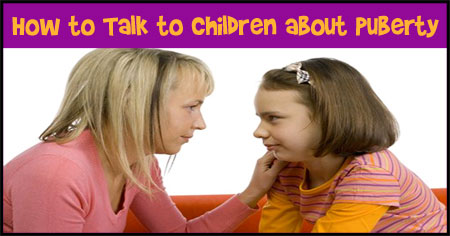 It is necessary to talk to children and guide them the right way to deal with puberty and adolescence. Read on learn how to talk to children about puberty and adolescence.

Puberty is a confusing phase for most children. It is difficult for them to deal with the sudden changes that start taking place in their bodies. So it is common that children start asking questions whenever they feel uncomfortable or uneasy. It is for this reason that as parents you need to educate your children about
puberty
before it hits them.
The best way to talk to children about puberty is by answering and the questions that have been bugging them. While you might feel uncomfortable while talking to them about it, it is important for them to know what they will be dealing with in the coming few years.
Here are some tips that will help you to talk to your kids about puberty.
1. Start The Discussion Early
It is best if you start talking about puberty early. So before children see the
changes taking place
in their body, they will have prior knowledge about it and will handle things easier. Do not wait too long to start the puberty talk because once a child gets to a certain age, it becomes awkward for both the child and the parent which might lead to the avoidance of the discussion altogether. Therefore, the earlier, the better!
2. Discuss The Various Physical Changes
During your discussion sessions talk about the different kinds of physical changes that your child may experience. If you have a
daughter
, tell her about how her breasts will develop and how her hips will become rounder and how they will get their period.
Sometimes if girls do not know about menstruation they get scared when they see the sudden blood flow. So it is essential to educate them about these changes and prepare them for it when they are approaching this phase. It is essential to tell girls what they must do when they see these changes taking place in them. Education about their bodies, the good touch and the bad touch,
how babies are born
etc; should be imparted in scientific and age- appropriate manner.
If you have a son let him know that he might experience a sudden growth spurt, a penis enlargement and that his voice will crack only to become deeper later. The acne that hits children at puberty is common for both genders. Just make sure that these changes do not scare them. Let them know that it is natural and happens to each one of us. Gradually, you must help them handle these changes by providing right kind of emotional support.
Parents should use their own judgement while starting discussion about puberty with their kids when they observe certain signs. Along with such education, it is also necessary encourage them to follow personal hygiene like keeping pubic area clean, how they can get rid of pubic hair etc. Preferably mothers should talk to daughters about puberty and fathers should talk to their sons.
3. Talk To Them About The Timing
Another thing that happens during puberty is that the children are subjected to comparison at school. Puberty hits different kids at different points of time. While one girl gets her period at 9 years of age the other might get it at 14. It might be that while one boy has already started shaving the other has not even begun to experience facial hair growth. So let them know that it is okay to be early or late. It does not make them abnormal or weird.
4. Provide Them With Other Authentic Sources Of Information
Do not just discuss the subject with them. Give them books to read or articles on this subject on the internet. Let them know all that one possibly needs to know in order to tackle puberty well. Do not hide things. It only leads to problems and mishaps. You would not want your kids to get information from a source that you deem wrong.
5. Answer Their Questions Honestly
Do not shy away from the questions they ask you. No matter how uneasy they make you feel. Answer them in a simple manner so that they understand immediately. Talking in metaphors will only increase their confusion. Answer and discuss without blushing or losing your composer. Keep your tone matter of fact no matter how uncomfortable you feel on the inside.
But do not tell them everything together. Let the information sink in through small doses because a proper knowledge of puberty will give you a happy and confident adolescent!
How to educate children about puberty and adolescence? Which facts should be highlighted while talking to children about puberty? How to answer children when they ask questions related to puberty and adolescence? Discuss here.