Raising Children Topics..
Are You Prepared to Cope With an Earthquake?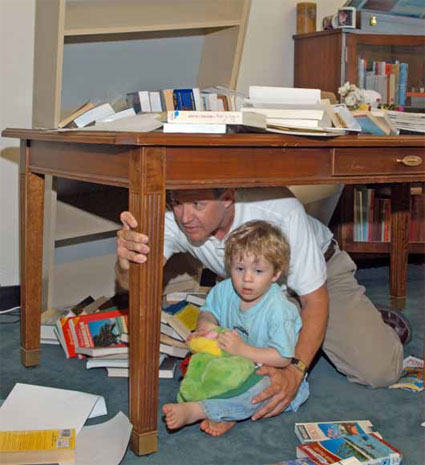 Short-term and long term-measures for protecting your family and home in the crisis created by an earthquake.

The Jan 26, 2001 earthquake, with its epicenter in Gujarat, shattered many houses in India. It has once again brought into sharp focus the general lack of preparedness in an earthquake situation. Here is a guide that prepares you to handle the crisis.

Short-term survival guide
If you are indoors:
Take cover under a strong piece of furniture. Keep away from windows, outer walls and places with overhead fittings. If you have to stand, stand near the wall, as that will save you from roof collapse.


Do not use elevators and lifts and steer clear of closed rooms. If you have to go to the ground floor, go by the staircase. As soon as you experience the tremors, shut off the main electricity switches, and also the LPG (liquid petroleum gas) cylinder.

If you are outdoors:
Move into an open space away from electric poles and buildings and wait till the shaking stops.


Do not enter a building or a vehicle.

If you are in a moving vehicle:
Stop the vehicle immediately and move out.


If in an area with buildings and trees, drive or move immediately to an open space.


Once the tremors stop, drive carefully avoiding bridges and roads with trees on the sides. Also look out for fallen wires and poles.

Long-term solutions
You can earthquake-proof your house by keeping heavy furniture firmly secured to the wall. Try to have more storage units that are built into the wall and avoid cabinets which can topple.


Hang all heavy pictures and mirrors away from beds, chairs and other places where people sit.


Keep any breakable objects in the lower shelves of cabinets.


Have your building and house checked periodically for any cracks. Check the foundation and the structure of the building too to avoid any mishap in case of an earthquake.


Check electrical wirings and gas pipes periodically to avoid any possibility of a fire. These two are the primary causes of fire during earthquakes.


Keep all flammable liquids in securely bolted cabinets. Avoid storing them in glass bottles.


Keep a handy First Aid Kit in a place where you can easily find it.


Tell your children about the safety measures to be taken during an earthquake.


Decide on an open place close to your house where the whole family can meet during an earthquake. This will eliminate the panic of being unable to find a family member.


Keep important phone numbers like the fire brigade, police and ambulance written on a piece of paper, pasted on the refrigerator or any other place where it is seen everyday, so that your family remembers these numbers in case of an emergency.

An all-time motto
Always keep away from rumors. Although earthquakes can happen anytime, anywhere, your family should be taught to view it scientifically. Children must be told that earthquakes cannot be predicted and that they should not fall prey to any false and pseudo claims. And come what may, they should not panic. Panic will only beget panic.



You may also be interested in:
Back to Previous Page | More on Raising Children Index
Discussion Forum - Recent Posts
What is patriotism? Which is the best possible way to instill this noble sentiment in your children? 26th January. Republic Day or a public holiday. Which of these is the prime focus of your lives, as parents? A day off from work and office tensions? Or the Republic Day when you take your children to the local flag-hoisting program? Do you encourage them to participate in the Republic Day contests organised by schools and housing co-operative societies? Parents should teach their children to respect the National Anthem. Many children are confused between the Independence Day and the Republic Day. As parents, you should clarify the difference between the two dates. Festivities and pageants held in the Indian Capital, (including the flag-hoisting by the President and the Republic Day parade), should be watched on television. It will generate a definite patriotic feeling. At the same time, it will mean quality time spent with your children. Is your child proud to be a part of his country? Share with us!

view more >>
DISCUSSION FORUMS ON
Articles
RE:Lessons From Children
hello editor,
sometimes its right, and sometimes its wrong also, childre ... - anudas read >>

RE:Lessons From Children
hello editor,
the adult definitely learn lots of things from kids, and n ... - ajinkya read >>

RE:Lessons From Children
hello editor,
kids are very innocent and they dont know who is smart per ... - niraja read >>

RE:Lessons From Children
hello editor,
sometimes its right to say we adult learn from childrens a ... - umesh read >>