Encourage your children to get creative after you return from a holiday. Here are some great ideas.

Scrap Book

When traveling to any place with your children, encourage them to make a small scrapbook on the destination, before leaving. This will give them a sense of where they are going, and will make them a lot more excited and eager to see things they have just read up so much on. Generally children do need to prepare class projects on various topics in school. You could discuss your forthcoming trip with the schoolteacher, and find out if they could perhaps do a project on any destination of their choice, or on a place they may have visited during the holidays.

Also, they could leave a little space at the end of the book, to fill up with information about their trip. They could also supplement this information with a few photographs and other souvenirs from their trip. Even little things like a bus ticket can make an exciting souvenir and addition to their project book.

Album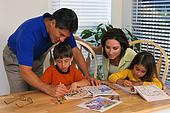 Alternatively, after every trip you could give your child the task of organizing all the photographs from the trip, into an album. Consider opting for a classic album, instead of the folder-like album in which you just slide the photographs. The classic, older-style albums gives you more freedom to play around with the pages. Your child can add a little commentary along with each photograph. For example, if a particular photograph was taken at a cafe, your child could state the name of the cafe, add that he spilt coffee on you just after the photograph was taken, or that you had just missed your bus and were waiting around for the next one! He could also stick a bus ticket in this album. Such commentaries often never accompany photographs, which are a shame since they add so much more to our memories of a trip. Also, something like this would require your child to dig into his creative brain cells - which is great - and you can be sure that your child will happily take up the responsibility of preparing the holiday album.
He could even make the album by himself. Here's what he will need:
Colourful handmade paper
Hole punch
Cardboard and glazed paper, or a thick plastic sheet
Glue
Scissors
Destination pictures cut out from a magazine (optional)
Your child can then cut out the handmade paper into equal size sheets, until he has enough pages for the photographs. He can stick two photographs on each page, depending on how large he keeps the sheets.
He should then cut out two cardboard sheets to serve as covers for the album.
Let him cover these cardboard sheets with coloured glazed paper, and make a collage of various pictures of your holiday destination cut out from magazines, or he can place a single photograph in the center of the cardboard cover. Once the cover is done, he could get it laminated if he wants, from any stationary store or a Xerox centre. Alternatively, he could also opt for a clear thick plastic sheet for the cover of the album, and get the pages spirally bound once the photographs have been added.
Then, let him punch holes in the coardboard sheet as well as in the handmade sheets, and start sticking photographs on the handmade sheets. He could draw lines besides the photographs with a pencil, and then, with a pen or felt pen, he can give a small write-up about each photograph.
He could also draw a border around some of the photographs, and intersperse the write-ups with little doodles and drawings.
When this is ready, you can be sure that every time you feel like going through family photographs, this is the first album you will pick up!