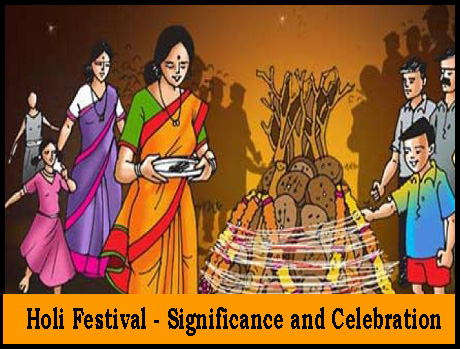 Holi is a festival of colours, eatables and fun. Holi festival is normally celebrated for two days. Fire is burnt on the eve of Holi which signifies the destruction of all evils and bad things. Find about the significance and celebration of Holi festival in India.
Holi is a colourful and vibrant festival that is celebrated all over India. A number of mythological stories are associated with this festival of colours. Holi is celebrated during the month of Phalgun as per the Hindu calendar. The festival normally falls a day after the Phalgun Purnima or full moon day. Although people in almost all parts of India celebrate this festival, the celebrations vary according to regional influences, rituals and traditions.
One of the most popular legends surrounding this festival is that Lord Krishna had applied colour on cheeks of Radha during Holi since she was fairer than him. With this started the tradition of playing with colours on the occasion of Holi.

Significance of Holi Festival
Have a quick look at the significance of Holi festival celebration in India.
Popular Mythological Story Behind Holi Festival - The legend of Prahlad and Hiranyakshyap led to the tradition of burning Holika or Holika Dahan on the eve of Holi. According to the legend there was a powerful king named Hiranyakshyap who considered himself to be God. Hiranyakshyap wanted everybody to worship him. However, against his wishes, his own son Prahlad began worshipping Lord Vishnu.
With a view to kill his son, Hiranyakshyap he requested his sister, Holika to enter a burning fire with Prahlad sitting in her lap. Holika had a boon to enter fire unscathed. Legend has it that because of his extreme devotion to Lord Vishnu, Prahlad was saved while Holika paid a price for her evil desire.
Message Behind Holi Festival Celebration - Celebration of Holi fosters in a message of unity and brotherhood. On this day people visit friends and relatives to wish each other. Irrespective of it being a Hindu festival, Sikhs, Muslim, Christians and Jains join the festivities bringing in almost the whole nation together.
Music and dancing is an integral part of Holi celebrations. The revelry associated with Holi is said to rejuvenate the mind and the body. At the time of burning the "Holika Dahan" people dance around the fire. This is said to kill harmful bacteria present in our body. People also clean their homes and get rid of old clothes by burning it in the Holika Dahan.

How is Holi Festival Celebrated?
Holi celebrations start on the night of the full moon with the burning of Holika on the eve of Holi. Bonfires are lit which symbolises the destruction of Holika. People dance and sing around the fire making it a fun filled evening.
The following morning people throw colours, coloured water and "Gulal" on each other. Men attempt to tease women by getting them drenched in coloured water. Children enjoy the festival by throwing water filled balloons.
Throwing of colours is savoured with delicious Holi specialties like Gujiya, Puran Poli, Malpuas and downed with glasses of "Thandai". In some parts of India especially Mathura and Barsana, Holi celebrations last for almost a week. Each and every major temple in these towns celebrates Holi bash on different days.

Modern Day Holi celebrations
Traditionally Holi was meant to celebrate the arrival of spring. The colours used during this festival denote the various hues of the spring season.
In the good old days people made use of natural colours extracted from flowers for playing Holi. Today artificial colours containing harsh and harmful chemicals are used during the festival of colours. A couple of undesirable practices like consuming "Bhang" and "Alcohol" have also become a part of Holi festivities in many parts of the country. This defeats the entire spirit of the festival.
Today little attention is paid to ensure that Holi does not contribute towards environmental degradation. Hence, there is a need for each and every one of us to take on the responsibility and ensure that Holi is celebrated in a non hazardous and eco-friendly manner so as to protect the environment and stay away from practices which do not conform to the spirit of Holi.