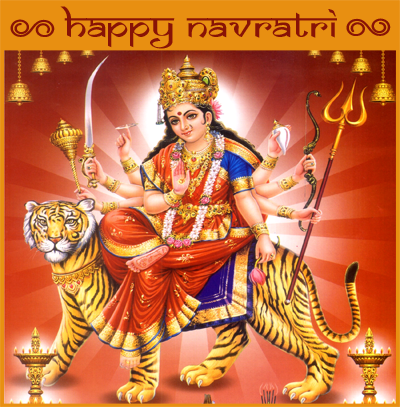 Navratri festival is one of the significant festivals for Hindus, especially for Guajarati community. Navratri festival is celebrated for nine days during which nine forms of Goddess Durga are worshiped. Dandiya and Garba Raas are performing which is considered as one of the auspicious performances for worshipping Goddess Durga.

Navratri- a festival holds special significance for Hindus. Navratri is formed of two Sanskrit words namely 'Nav' meaning nine and 'Ratri' meaning night; so literally it is a festival of nine nights. Goddess Shakti is worshipped in her nine different forms during these nine nights. It is essentially a Hindu festival celebrated by Hindus all over the world. This festival is celebrated with great fervor and is dedicated to Mahisasura-Mardini or commonly known as Goddess Durga.

Significance of Navratri
For Hindus, this festival is of great importance. The beginning of spring and autumn are very sacred for Hindus as they denote climatic and solar influence, hence during this period Goddess Shakti- the ten armed goddess is worshipped. Navratri begins on the first day of bright fortnight of Hindu month Ashwin. During the festival of Navratri nine forms of Shakti are worshipped with dance and festivities which culminates on the tenth day; commonly known as Vijaydashmi or Dasshera.
Goddess Durga is worshiped by different names and in different manner during these nine days. 'Durga' in Sanskrit means 'remover of miseries'. Goddess Durga is the destroyer of evils so Navratri is the most auspicious time of the Hindu calendar. This festival holds much significance for Gujratis and Bengalis, with people indulging in festivities and dance. Hindus have the belief that by invoking Shakti, they are worshipping the energy behind the essence of this universe.
The first three days are dedicated to Durga and her incarnations such as Kumari, Parvati and Kali are worshipped. The second three days are dedicated to Goddess Lakshmi; the bestower of wealth and prosperity. The last three days are dedicated to Goddess Saraswati; the bestower of knowledge.

Navratri Celebrations in India
Navratri is celebrated all over India but in different ways. In Northern India, it is celebrated by worshipping the Divine Mother and fasting on all the nine days. It culminates in Dusshera. Dusshera of Kulu is very famous in the North. Ramlila, depicting the life of Lord Rama is enacted during this time. In Gujarat, it is a major festival with Dandiya and Garba Raas being the main highlights. People of all castes and creed take part in Dandiya and Garba Raas with great enthusiasm.
In West Bengal or East India, This festival is celebrated as Durga Puja and it is the biggest festival of the state. Life size clay idols of Goddess Durga depicting the slaying of demon Mahishasura is set up in Pandals and worshipped for five days along with idols of Goddess Saraswati, Goddess Lakshmi, Lord Ganesh and Lord Kartikeya.
In Tamil Nadu or South India, people display dolls and idols in steps known as Golu. In Kerala it is celebrated as Saraswati Puja.

Essence of Navratri
Navratri is a festival celebrated by observing fasts and prayers to Goddess Durga and it is a time of self introspection. On the eight or ninth day, kanya pujan is performed wherein the nine forms of Goddess Durga represented by nine young girls are worshipped. In order to honour the Goddess, feet of these nine young girls are washed.
These nine girls are then worshipped. Being the most auspicious time of the year, new ventures are started during this time. The spirit of this festival lies in the great devotion and Holy atmosphere. Be it Dandiya and Garba Raas of Gujarat or Durga Puja of West Bengal, people celebrate Navratri with great fervor, devotion and revelry with singing of devotional songs.