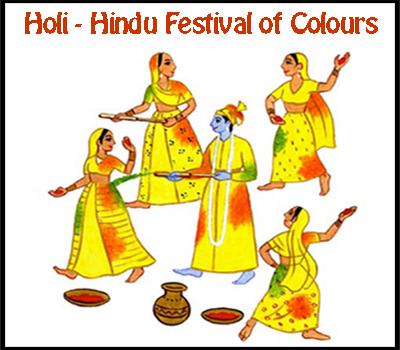 Holi is festival of colours and fun. Though celebration of Holi festival has religious significance, this festival brings people together and helps them forget the bitterness in relationships and improve the bonds. Holi festival is not only celebrated by Hindus but also by the people of other religions. Read on to find about the significance and celebration of Holi festival.

Holi is a Hindu festival and is played with colours. This festival is complete merry making and enjoying and is celebrated immediately after the full moon day of the Phalguna month of Hindu calendar. Holi cannot be categorised under religious festivals because people are found disregarding social norms and they are excused as people think and say, "Do not mind, it is Holi" or in typical Hindi they say "Bura Na Mano Holi Hai"

Religious Aspect of Holi Festival

Although there is not much religious conviction involved, there is a story behind the history of Holi which indicates and proves the victory of good over evil. There was a king named Hiranyakashyapu who had a son named Prahlad. Prahlad used to worship Lord Vishnu and his father forbids him to do that. But Prahlad continued praying to the Lord and did not pay any heed to his father's orders.

The king put him with his sister in the fire with an intention to burn Prahlad, as his sister Holika had a boon form Fire God and she was not supposed to get burnt in fire. However, due to the prayers of Prahlad, he came out safe and Holika got burnt in fire. People burn evil in the name of 'Holika Dahan' a night before they play Holi.

Festival of Holi is also related to Lord Krishna playing with Radha and Gopis. Even today, Holi is played for more than one day in Mathura and Vrindavan.

Social Aspect of Holi Festival

People celebrate Holi so that they forget all their grievances and accusations against each other. There are social events organised by different groups and people participate just to show their social involvements. Women usually were forced to stay indoors and did not have much freedom in normal days. They waited for festivals especially Holi to have some relaxed rules and enjoy a little bit of freedom in their lives.

Holi is celebrated to welcome the spring season and bid good bye to winter. Holi binds all people of India together. Even the Indians who are living in other countries play Holi and relive the wonderful and merrymaking moments.

Holi Celebration

There are no such traditions and customs involved. You will find different and typical food items and sweets in everyone's house. Children are eager to start playing with water and colour right from the time they get up. This is because they have the liberty to splash and play with water and in water that day. Men and women are usually found in their groups enjoying applying colours and exchanging good wishes and sweets that day.

People visit each other's homes in the evening. In some places, parties are organised and people gather there. Nowadays, with the advent of internet, people send gifts to their far off friends or relatives to show their love and concern. You will find plenty of gift ideas and items with popular online gift stores.

Holi is celebrated in distinct style in Udaipur, Mathura and Vrindavan in India. No matter to which part of India, specially North India, you visit you will find friendship and unity all over. In many places people of all religion participate with equal enthusiasm and passion.

Holi is a great festival because it bridges the gaps between people and brings them together. It is called Phagwa in Bihar and it features Dolayatra in Bengal which means swing festival. Everywhere it is the time to rejoice and people enjoy merrymaking with music and dance.