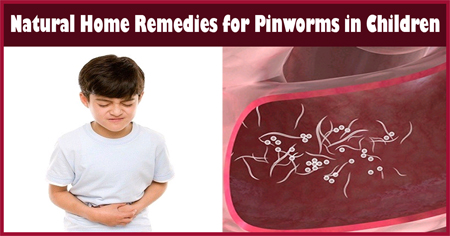 Pinworms cause intense itching and are extremely irritating especially for children. These are one of the common infections caused easily. Read on to learn about the natural home remedies for treating pinworms in children.

Pinworms are common human infections and are transferred easily from one person to another. Along with extra personal hygiene, there is need for understanding the symptoms and causes of the problem so that you can save your children from getting infected over and over.
Causes of Pinworms in Children

Let us take a look at some of the common causes of
pinworms in children
.
Lack of Personal Hygiene

Taking care of personal hygiene thoroughly can help prevent your child from getting infected by pinworms.
Unclean Sheets and Clothing

Sleeping on unclean bed or wearing unwashed clothes especially undergarments can contract pinworm infection. Caution should also be taken while dealing with unclean bed sheets as the eggs easily become airborne and can enter the body by inhaling the air or get swallowed.
Eating Contaminated Food
Eggs of pinworms enter the body while eating or during the digestion process of contaminated food.

Common Symptoms of Pinworms
Have a quick look at the common symptoms of pinworms.
Itchiness around rectus.
Can lead to urinary tract infection normally in females.
More serious complications like disturbed sleep or even insomnia if not treated on time.
Bleeding may be caused due to intense itching.
Home Remedies for Pinworms in Children
Here are some natural
home remedies
which you can follow to prevent or treat pinworms in children. Make sure that you consult your doctor about these remedies before trying them on your children.
Good Hygiene
Proper hygiene is the most important way to prevent and get rid of pinworms in children. Washing hands at regular intervals with soap and warm water, keeping nails short and clean, washing hands before each meal and after using the toilet, using gloves while handling infected clothes and sheets are some steps to be taken to prevent pinworm infection.
Having a Healthy Diet

Dietary changes play a major role. Let your child eat fresh fruits and vegetables and avoid highly sugary and carbohydrate foods. High fibre foods help flush pinworms from your system. Probiotics are also easy and healthy way to keep your intestinal tract healthy.
Garlic Remedy

Garlic is excellent in getting rid of pinworms. Try to add it in as many ways as possible in foods because its powdered form is not effective. Even paste of
garlic
with Vaseline applied on the buttocks and rectum of your child helps stop itching and kill worms present there. Please consult your doctor before trying this remedy on your children.
Coconut and Castor Oil

A spoonful of coconut followed with castor oil three hours later helps flush the pinworms from the body. You need to consult your doctor before trying this remedy on your children.
Shredded Carrot
Shredded form of
carrot
taken several times a day help purges the worms from intestine. You can mix carrot with honey to let your child have it.
Raw Pumpkin Seeds

Crush raw pumpkin seeds and add water. Simmer it for two hours and strain the mixture. Let it cool and give your child a tablespoon of this mixture four times with an interval of fifteen minutes. After two hours let your child have a bowl of warm oatmeal to flush the worms out of the system. The dose for children is 45 grams of pumpkin seeds.
Onion Remedy

Take a medium sized onion and soak it overnight. Let your child drink the liquid three times a day.
Bitter Gourd Juice

Juice of bitter gourd is an effective way to get rid of pinworms and their eggs from the body. You will have to look for the tricks to let your child have it.
Grapefruit Seeds

Grapefruit seed extract is yet another way to treat pinworms. It is available in pills and liquid form in drugstores. However, make sure that you consult your doctor before taking them.
Clovers and Flaxseeds

Grind one part of cloves and ten parts of flaxseeds. Add the mixture to the meal and repeat the dose alternative days and continue for one month.
In addition to taking steps to eliminate pinworms from your child's system, you should also take some steps to prevent it from spreading. Follow the above mentioned home remedies and take all necessary steps to prevent it from relapsing.
What are the common causes of pinworms in children? How to treat pinworms in children naturally? What are the ways to prevent pinworms in children? Discuss here.