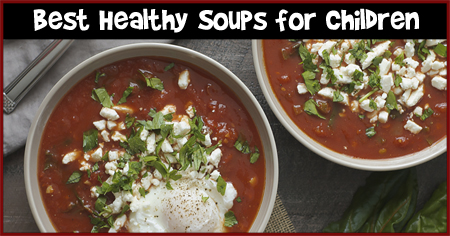 A bowl of soup provides maximum nutrients to your growing one. Find some of the best healthy soups that will double up as a healthy meal option for your kid.

If you are thinking of a healthy meal option for your kid, you can try soups of different types that shall ensure she gets all the nutrients she needs. Certain soups are also known to tackle problems like excessive weight gain. Obesity among children has been a growing problem that can be tackled with the healthy soups.
Health Benefits of Soups for Children
When it comes to the healthy aspects of soups, the ones that are vegetable based are known to provide maximum nutrients to your growing one. You can expect plenty of key nutrients like minerals and vitamins from these. This low calorie option effectively regulates her digestive system and makes sure she gets all the
vital nutrients
.
Soups based on celery and onions are high in potassium that keeps her feeling full and she feels lighter at the same time. If your kid does not show interest in
vegetables
, soups can be a great addition to her diet. If you are trying to reduce her daily calorie intakes, you can replace the evening meal with a hot bowl of soup.
Why Not Try Out These Interesting Options
1. Sweet Potato Soup

You can make flavourful soup with sweet potato. All you need to do is, boil and mash the potatoes and mix it with rice milk to make the soup. You may also add some nutmeg, pepper, salt free seasoning to enhance the taste.
2. Broccoli Soup
Does your kid reject broccoli every time she is being offered? Well, mommies you can now make a tasty creamy soup out of it and see her gulp down every single spoon. All you need to do is chop the broccoli coarsely and mix it with some rice milk. You may also add some rinsed and drained beans or some soft tofu to it. Add some salt and pepper and cook all the veggies in olive oil.
3. Chicken Noodle Soup

Now, if your kid is craving for some non-vegetarian dish, you can try this yummy soup. Making a smooth and creamy soup for her tonight can be an amazing option. Look at the ingredients you will need.
Ingredients:
Chopped small celery stock


1 pack of whole grain noodles


Chopped onion and carrot


Minced garlic


Low sodium chicken stock


Olive oil
Method:
You need to fry carrots, onion, and garlic in the olive oil.


Add stock to it and allow it to boil. Add the noodles thereafter and then the chicken stock.


You can now add pepper and salt to taste.
4. Tomato Garlic Soup

You need to arrange some simple ingredients for this. Look below.
Ingredients:
1 tablespoon flour


Fresh rosemary


Chopped onion


Olive oil


6 cloves of garlic


5 boiled and smashed tomatoes


Pepper and salt


Butter
Method:
Bake the garlic and tomato in a pre-heated oven with olive oil. Add salt and pepper to it.


Remove from heat and let it cool.


Sauté the onions and rosemary till they get translucent. Add the tomatoes and stir occasionally.


Transfer this to a processor and make a smooth paste.


Pour this puree in a sauce pan.


Take another pan and melt butter in low heat.


Mix some flour and then add the soup.
The soups made in home are considered the best for your child. When it is prepared at home, you can add the vegetables of your choice. This also gives you the choice to use salt reduced stocks and you can use fewer additives as well.
The commercially available soup mixes are known to be high in sodium content. Additionally the pre-made soups are high in carbohydrates and low in protein content. So, always opt for homemade soups for providing essential nutrients and good health to your children.
How to make soups healthy for kids? Why are homemade soups best for kids? What are health benefits of soups for kids? Discuss here.