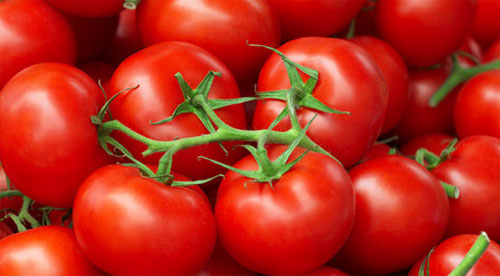 Eating a balanced diet containing vegetables and fruits is considered the best way of ensuring good health. Vegetables are not just tasty and nutritious, but they also enhance the immune system of our body. One vegetable which most of use extensively, but do not pay much attention to is the tomato.

Anti-Cancer Properties
This vegetable has antioxidants and hence is a great aid in keeping cancer at bay. Tomatoes contain a pigment called Lycopene, which reduces the risk of cancer. The redder the tomato, the more is the Lycopene in it. The good news is that cooking does not destroy this pigment. Green or yellow tomatoes do not contain this pigment. Lycopene is also useful in reducing high blood pressure, a major risk factor for coronary heart diseases and strokes.
Besides this, tomatoes have high nutritive value. It contains vitamin A, C and potassium. Fat-soluble vitamin A is involved in the formation and maintenance of healthy skin, hair and mucous membranes. It also helps in good and clear vision and is necessary for proper growth of bones and tooth development.

Soup it, Gravy it or Juice it
You can include tomatoes in your diet in various ways:
Tomato soup for one. Tomato soup taken without butter is considered to be an excellent food for people who are on a weight-reduction diet.


Add tomatoes in your green salads.


While making a sandwich, don't forget to add tomato slices.


Make vegetables in a tomato gravy.


Make your snacks tasty by topping it with tomato ketchup (home-made to ensure that there are no preservatives, added artificial flavours or colours in it).


A glass of plain, fresh tomato juice with a pinch of salt or sugar had in the morning, serves as an excellent coolant for your body.
Vitamin C in the tomatoes can also rejuvenate a dull skin. A mixture of tomato juice and rose water applied daily to on an oily face can work wonders. It acts as a natural astringent. Not many may know, but tomatoes are good to get rid of dandruff.

Pulp as Scalp Conditioner
Here is a tomato treatment for dandruff-free, soft and silky hair:

Dandruff treatment
Massage your head with warm coconut oil.


Steam the scalp and hair with a hot water towel wrapped around the head. Do this three to four times. Leave the towel for 3-4 minutes each time, till it cools off.


Boil tomatoes and remove its skin.


Mash the tomato and apply the pulp only to the scalp.


Leave it for half an hour and then shampoo your hair.

Do this once a week, and repeat again if dandruff persists. Tomato also acts as a conditioner and brings shine to lusterless hair.