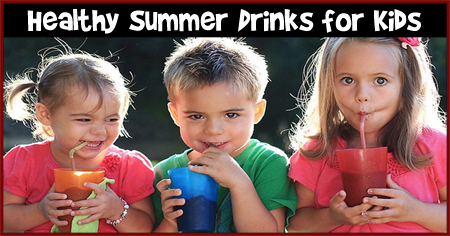 Preparing special and healthy drinks for kids during summers is a must to keep them hydrated. Here is the list of healthy summer drinks for kids for keeping them hydrated and preventing heat related illnesses in them.
Bright sun is emitting tons of heat and now everyone is facing the hottest summer. Holidays have started and now it is the time to keep the body more hydrated. Hence, adequate amount of liquids must be added to the diet of all the kids. As they are not aware of what is right and what is wrong, it is parent's duty to take care of their health. More in-take of liquids during summer is necessary and here are some healthy drinks for kids.
Popular Summer Drinks for Kids
Let us take a look at popular and healthy summer drinks for kids.
1. Lemonade
Lemon is a very good source of Vitamin C and lip smacking drink, which would help the children keep going even in the sizzling sun. Squeeze half of the lemon in one glass of water and add a spoon of sugar and a little salt to it. Stir well and add ice cubes if required. But while serving for kids, better avoid cold drinks as it may create throat infection.
2. Strawberry Milkshake
Strawberry milkshake is a very old drink loved by all ages of people and it serves to be a tasty drink. Usually, children love strawberry fruit, but when made as a milkshake with extra ingredients stands out to be very delicious. It can be prepared by blending few strawberries in mixer along with a cup of milk and sugar. Adding a scoop of ice cream or fresh cream to this milkshake can enhance the taste of this milkshake.
3. Mango Iced Tea
Mango iced tea is a perfect refreshing drink for children during summer. This is a winning combination of two wonderful ingredients called Mango puree and tea, which is usually loved by all kids. Just brew few tea leaves and add some sugar. Wait for some time until it completely dissolves and let it cool down. Now add the cold mango puree, mix well and serve it to your kids.
4. Gulkand Milkshake
Gulkand Milkshake is one of the best summer drinks because, it has the capacity to cool down the body and reduce the heat strokes. Gulkand is a rose petal jam, otherwise called as a sweetener. It is used as a vital ingredient in preparing paan. If wild pink rose or local roses are available at home, it is very simple to make Gulkand milkshake, else buy Gulkand syrup from stores. Boil the milk and keep it in fridge to let it cool. After some time, add the Gulkand syrup and stir it. Now the Gulkand milkshake is ready to serve.
5. Sweet or Salted Lassi
Lassi is one of the best and common cool drinks for people of all ages during summer, especially two flavours for children where one is salty and another is sweet to protect them from sun strokes. The ingredients required for making Lassi are very minimal such as thick yogurt, water, salt or sugar (based on the requirement). If preparation is for salted flavour, black pepper, ginger juice, green chilli, coriander leaves, and few pinches of salt. There are many benefits of drinking salted Lassi as it contains ginger juice. Homemade yogurt would be the best to prepare Lassi for kids.
6. Fresh Fruit Smoothies
Varieties of smoothies are always a summer treat as the children do like sweetest and coolest recipes. Watermelon smoothie will be refreshing and light as the watermelon is made to freeze before making the smoothie. Next is a peanut butter banana smoothie which is a combination of bananas, honey and peanut butter. One of most delicious smoothies is cherry vanilla smoothies, a wonderful combination of three ingredients. Children love this drink as they get a feeling of eating gourmet cherry vanilla ice cream.
Apart from the above-mentioned drinks, there are many other summer drinks loved by most of the kids. Drinks like Chaas, rose milk, mosambi juice, fruit punch, strawberry-lemonade drink, peach smoothies, Sabja lemonade, Thandai and few more helps during summers to keep the systems of children hydrated. Avoid packaged foods and drinks instead stick to homemade foods and drinks to keep your children healthy.
What kind of drinks should be offered to kids during summers? Why it is a must to keep kids hydrated during summers? What kind of drinks should be avoided by kids during summers? Discuss here.