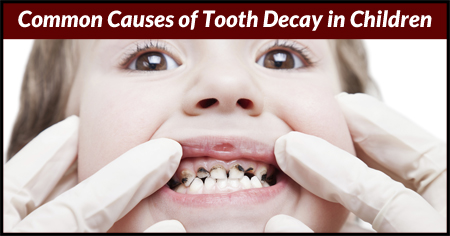 Tooth decay and dental cavities are common in children. Read on to learn more about the common causes of tooth decay in children.
Tooth decay in children is quite a common problem. It not only damages precious tooth of a child but also compels the parents to spend lots of bucks for the treatment. Severe tooth decay may lead to pain in tooth, infection and ultimately can lead to improper jaw structure and problem in speech development.
Young children can take care of their tooth if right method is taught to them but the problem becomes grave when toddlers have tooth decay. Though many children follow the tooth care regimen of brushing teeth twice and flossing them still dental problem may occur in them.
The small pieces of foods that remain in the mouth of a child after taking their meals or snacks are the main causes of tooth decay. Children including the toddlers eat and drink in between their main meals and that is why it is important to tutor them to follow healthy eating habits and take precautions after every meal or snack they have. There are certain foods that can aggravate the chances of tooth decay in children. Parents must have required awareness so that these food items could be kept away from children's diet.
What are the Causes of Tooth Decay in Children?
Take a quick look at some of the common causes of tooth decay in children.
Usage of Sippers
Toddlers and children are given juices and milk in cups or containers that have sippers. This is not a good practice at all. When sipper is used, children have the tendency to sip in the liquid for longer time period which is one of the prime reasons of tooth decay. It is better not to give juices and milk in sippers and parents should ensure children finish off such sugary foods fast. Toddlers should be given water after having milk or juices so that their mouth gets rinsed properly.
Candies and Chocolates
Children have affinity for candies of all types. Parents should ensure that their candy and chocolate intake is limited. Every time children consume candies or chocolates they should wash their mouth with water or brush their teeth properly.
Soft Drinks
Soft drinks of all kinds can cause severe damage to tooth if not taken care of properly. Parents should ensure that consumption of soft drink or any other sports drink is restricted in children. After taking such drinks, children should rinse their mouth with water. Soft drinks and sport drinks are also harmful for the health of children.
Sleeping with Milk Bottles on Mouth
Mothers should never allow their child to go off to sleep with milk bottles in their mouth. The natural sugar present in the milk would cause damage to the tooth enamel during sleep.
Usage of Puffs or Inhalers
Many children are given puffs or inhalers to give them relief from asthma problems. These puffs cause serious damage to teeth over the period of time. After taking puffs, children should rinse their mouth with water. They should brush their teeth after one hour of taking these puffs.
Poor Eating Habits
Children should have fixed time for taking their meals and snacks. Having the habit of munching snacks or foods throughout the day cause more damage to tooth. The children should be given sweet dishes as part of meal rather than giving them separately as snacks.
Apart from restricting the consumption of food items that can increase the risk of tooth decay, certain other practices should be followed by parents in order to prevent any dental problem in their children.
Parents can help their children follow a healthy food regimen and other good practices so that kids have lesser chances of dental problem.
Which foods can cause tooth decay in children? How to help children prevent tooth decay? What are the ways to teach children to maintain good oral hygiene? Discuss here.