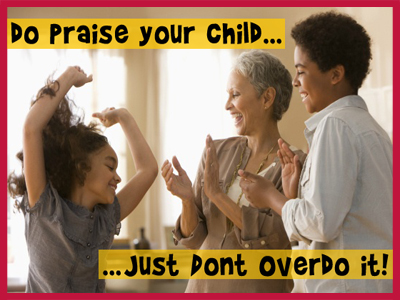 Being proud of your child's achievements is one thing, but excessively praising his looks or talents instead of his efforts can overinflate his ego and create a sense of entitlement in your child. Read on to know the adverse effects of praising your child excessively.

Picture this. Your child comes first in class, year after year. In addition, he is a nice looking young man, and he is good at sports. As his mother, you are no doubt exceedingly proud of your child, and never fail to tell your child, and others, how wonderful and talented he is. What you don't realize is that by doing this you could be causing grave psychological damage to your child.

False image of perfection
When parents praise their children excessively, believe their child could do no wrong, and that their child is, in essence, the perfect child, the child too grows to see himself in this manner. He sees himself as perfect, and starts leading his life in that manner. He wants others to see him as perfect constantly, so he moulds himself into someone who he perhaps is not, and to an extent he leads a life that is not real. He will constantly strive to appear perfect to everyone. He may then do anything to preserve this image of perfection, and when things go wrong, he will be unable to handle it - which may even lead him to take his own life.

Lack of conscience
Excessive love, excessive praise and treating your child like God works to prevent your child from developing a conscience. At some point in time their abilities to feel and empathise with others, and with their pain, gets killed, because they are unable to put themselves in your shoes.
For many of us, what keeps us on the right path is a conscience. Many of us are incapable of physically harming others, although we may want to, because we have a conscience. However, recent studies conducted in America have shown that as many as 1 out of 25 people in the United States don't have a conscience. This means that there is really nothing to prevent them from harming anyone. They will not feel guilt, and they will not feel pain at another person's pain. They may have underdeveloped social skills. They will not cry at movies, and they will not feel joy at a close friend or sibling's success.

Increased criminal tendencies
People that don't have a conscience are more likely to be violent, commit serious crimes, like beating up their wives or murder. Or, they may commit white-collar crimes. For many, to be corrupt is a way of life. In a Government office for example, if all of Rakesh's colleagues are corrupt, chances are that he too will be corrupt. Perhaps he is too scared to fight the system, perhaps his needs at home are great, or perhaps he just has no conscience.
As a parent you would no doubt wish for your child to excel in school. However, it helps to remember that those students, who always stand first in every subject at school, are not always the most successful. If you want your child to be successful, you need to build up his confidence in himself and in his abilities, without giving him an inflated opinion of himself or making him feel that others are inferior. Your child should be able to take decisions, and he needs to learn focus. And, you need to build your child's character.
It is thus important that when raising children, parents should not just focus on improving their intellect. They should focus on
building their child's character
too, so the children of tomorrow still have a soul.

Why do you praise your child? Do you know why excessive praise is bad for your child? What are the qualities or behaviours for which one should praise one's child? Discuss here.