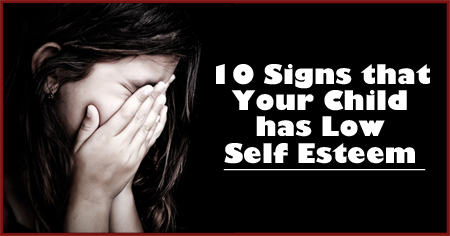 Low self-esteem may develop negative attitude in children and they may even try to harm themselves due to it. Therefore, it is crucial to be aware of the signs and take right action when such signs are observed. Read on to learn more about the 10 signs of low self esteem in kids.

Studies show that there are increasing cases of children having low self esteem in modern times. The fierce competition and the mentality of the society cause the child to have a low self esteem. Low self esteem can be described as a psychological condition in which the child loses all confidence in his or her ability.
Children coping with low self esteem feel inferior to their peers as they are unable to do well and excel in the conventional tests. It might be because of poor marks or inferior personality; the causes for self esteem are many. Parents need to fix this problem before it permanently damages their children. Extreme cases of low esteem have often led to suicide. Have a quick look at the 10
signs of low self esteem in kids
.

An Attitude of Avoidance

If you see your kid constantly avoiding any challenging situations or even friendly contests it is because they do not believe that they can win and feel embarrassed about their abilities. The fear that they might fail prevents them from taking part in such things.

Giving-Up Easily

Easily giving up tasks that are mildly challenging is the sign of low
self esteem
. Children with low self esteem abandon a task if they experience even a little frustration while doing it.
Cheating

If you have observed your kid cheating in tests or contests or games of no significance it is because they are afraid they will fail. This fear is generated from their lack of self esteem.
Immature Behaviour

Is your child often exposed to teasing and taunting at school? It might be because they display an immature and stupid behaviour at school. They unconsciously project a baby like behaviour that is very different from their peers. This makes them a subject of teasing which further damages their self esteem.
Controlling Attitude at Home

Children suffering from low self esteem display a bossy, controlling attitude at home. Their attitude is an attempt to mask the sense of defeat, helplessness and failure that they feel within.
Always Blaming Others

Such children accuse others rather than accepting their own faults. They try to
boost their self esteem
by blaming others, making their psyche believe that their failures are others' faults. Maybe the teacher is harsh or the parents are not caring enough etc. This rationalization keeps them from going over the edge.
Poor Academic Performance

Kids with low self esteem perform poorly in school or other activities. They display a complete lack of interest in the serious works of life. They keep avoiding such activities. Bunking school or making excuses to drop swimming classes are some outward signs of low self esteem.
Poor Social Skills

They isolate themselves socially. Interacting with other people of their age enhances their sense of failure and their lack of achievement. They therefore withdraw socially and stop playing with their peers so that they do not suffer the extreme sense of failure. Being around
confident
and
successful
people damage them.
Get Frustrated Easily

They exhibit mood changes. One moment they seem to be perfectly happy, the next moment they might break down and start crying. Such kids also suffer from extreme cases of depression. If you find your child sitting lonely, eating less, unwilling to talk or go out, it is because of their depression. When they are unable to excel like others they suffer frustration and are depressed.
They tend to develop hatred towards themselves. They claim that they cannot do anything or they never do the right thing. A defeatist attitude is adopted. This self-loathing leads them to injure themselves.
If you see your child displaying such symptoms rush him or her to a psychologist. Low self esteem during childhood gravely affects your child's later life. It should be fixed as early as possible.

What are the causes of low self esteem in children? How to prevent low self esteem in children? What are the ways to help kids get rid of low self esteem? Discuss here.