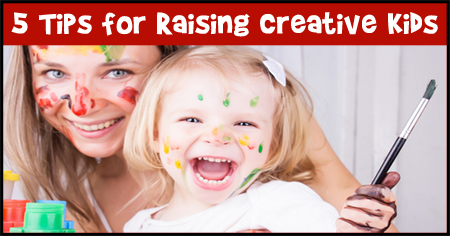 Fostering creativity in children can help them in many ways in their growing years as well as during their adulthood. Read on to find out how to raise creative children.



Creativity is something children are born with, like glitter in their veins. Unfortunately, they lose their creativity as they grow older. By the time children finish primary school, they are structured to a more fixed and rigid way of thinking. However, creativity and innovation is more than a basic requirement for a child's healthy mental and emotional development. Therefore, parents and teachers alike can do a lot to not stifle a child's natural curiosity and
creativity
but allow them to explore things on their own. The more you encourage your child to think out of the box, the more likely you will
raise creative children
.

1. Answer Questions with Questions

Children love asking questions and parents tend to give them direct answers. Instead of giving them direct answers, answer them with questions like, "What do you think is the correct answer?" or "Why do you think that happened?" Have her formulate her own answers. If she is correct, ask her why she thinks that the answer is right and reward her. If she is wrong, ask her why she thought this was the right answer.
Appreciate your child's
thinking and explain the correct answer to her. Encourage your child to figure out solutions and make conclusions, based on creative
problem solving
.
2. Discover Answers Together

Occasionally, children ask questions that parents do not know the answers to or are not sure of. You might sometimes feel the need to cover up your ignorance or just reply, "I don't know," or "I'm not sure." Say, "Let's find out the correct answer." Research with your child, either on the internet or potter about in your city library. Though the internet is irreplaceable, encourage your child to read books. Take age-appropriate books from the library and read them with your child. Experiments and illustrations are helpful too, if you are sure of the knowledge applied yourself.
3. Do Not Stress

Schoolwork is important, but it is not all-inclusive. Excessive studying, scheduling and homework kills creativity as they slowly process the child's creative thinking process into a mechanical mode. For creative kids, allow them some creative relaxation time after their studies. Let them take a nap, read an interesting book, take them out for a walk or watch a nice movie. Talk about different things that interest your child. Pretend play is another way of fostering creativity by giving your child the opportunity to act as a different character. Give her time, the props and the ideas of role-playing to bring out her creativity.
4. Invention and Creation

Playtime can be creative time too, which is why buy open-use toys. Buy a Lego kit with lots of pieces so that your child can create new structures every day. Similarly, building blocks, dolls and trucks require creativity. Build new houses with building blocks, encourage your child take her doll to school and drive her trucks to new destinations every day. A large cardboard can also be a dollhouse, a house for her other
toys
or a garage for her cars. Pen and paper are the age-old favourites for developing creativity.

5. Reward Your Child for her Efforts

Sometimes, all a child needs areacknowledgement and encouragement. Along with complimenting on your child's high test scores, appreciate the effort she has put in by saying, "You worked so hard for your test and earned your good results. I am proud of your effort." On the other hand, encourage her when she gets a poor score in her next test. Say, "I know you worked very hard for the test. That is more important to me than the scores." Discuss the reason why she could not do well and how she could improve in the next test. Motivate your children to make an effort to learn, solve problems and use their minds.
Therefore, these are some simple yet practical ways of developing creativity and intelligence in your child. Keep inculcating them in your and your child's life to help her mature into a highly creative individual with her own opinions in the future.
Why is it important to nurture creativity in children? What are the benefits of fostering creativity in children? How to encourage creative thinking in children? Discuss here.