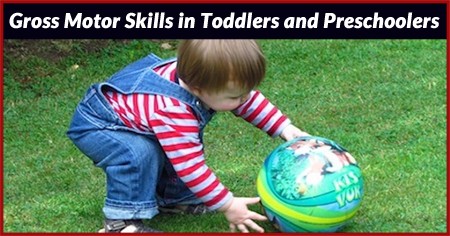 A toddler or a preschooler who is encouraged to have an active lifestyle can develop gross motor skills and fine motor skills faster. Learn about the importance of encouraging gross motor skills in toddlers.

Many parents get surprised when they find that the round tummy and adorable, chubby legs of their toddler is gone and has been transformed as soon as their children attend preschools. Well, this is because your child is making use of her muscles. You must learn the importance of developing
gross motor skills
in your
toddler
.
Gross motor skill competency in your preschool will help her move about easily and avoid any developmental delay as well as she will have confidence in her abilities and will provide additional health benefits as she will stay active. Gross motor skills include activities like running, jumping, dancing and manipulation such as catching, throwing and kicking.
Importance of Encouraging Motor Skills in Children

Always keep in mind that children are not born with developed
motor skills
. Also, some learn things faster while some take time to understand and follow instructions. However, motor development is possible only through
learning
and then practicing. These skills are not just limited to helping children walk or play, but also to write and make art.
Helps Prevent Developmental Delays

It has been observed that most of the preschool children work on mastering gross motor skills. The toddler's first try to stand and maintain the balance and then gradually develop the skills of moving arms, legs and work on torso movement as well. Between the age of 6 and 7, children usually master skills like jumping, running and also perform well combining two or more activities.
The fact is that the preschool children enjoy channeling their energy into movement and successfully perform specially when an adult is coaching them. They like to have adequate opportunities to practice their skills like hopping, skipping or catching a ball.
Promotes Emotional Health

Preschool children develop psychological benefits as they expand and refine their gross motor skills. The proficiency in these skills helps them enjoy different types of activities and as they challenge old boundaries there is enhancement in self confidence in them. They start participating in varieties of activities that help support their psychological development.
Encourage a Healthy Lifestyle

Since gross motor skills are developed through physical activities, children perform these activities with confidence. This makes them pursue these activities on regular basis and they get involved in different forms of active play. If children are encouraged to have active lifestyle right from their childhood, they are likely to embrace this for lifetime and remain healthy. Developing gross motor skills during preschool era provides significant healthy benefits to them for future.
Supporting a Growing Body

There is a remarkable and distinguishable appearance in the preschool child as she epitomizes early childhood development from a rotund body of a toddler. The gross motor development in your child helps her have strong muscles and bones which support her growing body. Some of the activities need supervision of adults while for some children are left free. It is advisable to help preschoolers engage in both types of activities for at least 60 minutes every day.
Classroom Skills

Till now vigorous and energetic activities has been included here. But, gross motor skills also include basic body control. This means that a preschooler needs to understand and sit still inside a classroom also. He also needs to learn how to walk down a crowded place without knocking on people and walls or falling down. Simple activities like stacking, balancing blocks, handling things to others properly and many such actions also come under the section of gross motor skills.
Fine Motor Skills

Once the child starts understanding and develops classroom skills, now is the time to help her develop fine motor skills. This includes use of fingers and doing one or more things at a time using both her hands.
As and when you will notice that your toddler is developing and mastering skills you will find that she is gaining confidence also. She will insist on taking off those training wheels off her bicycle and will feel more excited and have a better sense of balancing as well.
What are gross motor skills? What are fine motor skills? How to encourage motor skills in toddlers and preschoolers? Discuss here.