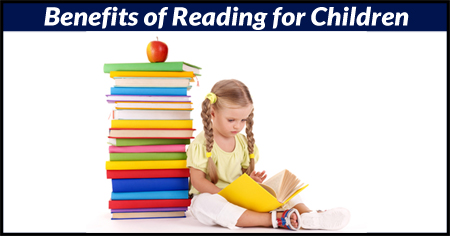 Reading can prove very beneficial for the overall growth and development of children. Learn more about the benefits of reading for children.

Reading is the best way to explore the world. It is not possible to gain knowledge about everything from personal experiences, but with reading this impossible task can be made possible.
So to make children wiser in every endeavour it is of utmost importance that the parents should move forward in cultivating the
habit of reading
in their kids. Besides reading provides immense pleasure and it is a way to relax. Reading is a mode of entertainment; it is like a friend when you are in dismay and like to be alone with yourself. Children go through different phases of life when they are growing up. They experience mood swings and sometimes it becomes fatal, they go through various stages of depression and it is very natural. If the kids have habits of reading they can soon recover these kinds of mental trauma.
How Does Reading Help?
Parents should teach the kids the good effects of reading and encourage them to make reading a daily habit. It would be better if the parents can make out some time and devote some time to read together with the kids. By doing the kids feel that their parents also enjoy reading and thus they will be automatically drawn towards reading. Read on to know more about how reading befits kids at all ages.
Improves Vocabulary
More and more reading will definitely improve the vocabulary of the kids. It would be better if you can sit with your children and
read aloud
to them. Children learn very fast by listening. So take out some time from your busy schedule and be with your child. More reading will give a good grip over the language.
Thinking Skills
Reading improves the thinking skills of children. While reading they get to know many facts and figures and can rectify themselves about something for which they had some wrong information. Reading widens the limit of knowledge.
Relationships
If parents can read aloud with their kids, it will strengthen their relationship. It will make the bonding between parents and kids more strong. Kids will learn to empathize with their parents.
Communication
If the parents and the kids sit together and spend some quality time reading books, then it will enhance communication between them. Communication is very important to understand each other. Moreover, kids will develop better communication skills which are very important in the long run when the kids grow up.
Disciplined
If reading becomes a habit then the kids will automatically become more disciplined. Parents should strictly fix a time when kids will devote themselves only to reading. This makes the child learn manners and they grow an interest in reading.
Calms Restless Child
Restlessness is a common problem with every child. Kids happen to be very fickle minded. What they like now may cause problem to them just after a few minutes. They cannot fix their gaze on a particular thing for long. Reading helps in overcoming such problems. It helps to calm a restless child.
Longer Attention
Reading enhances greater concentration and longer attention span in kids. It will help them in the future endeavours. Lack of
concentration
in kids is a common problem and the kids suffer a lot due to this. It can also doom a kids' career.
Creativity and Imagination
Reading books like those of fantasy and fairy tales provide the kids with materials of their imagination. It brings out the
creativity
and imagination in the kids.
Self Confidence and Independence
When children learn to read out fluently it boosts up the self confidence in them and they do not shy away to read out in front of the audience. It makes them independent and self reliable.
Reading also creates a sense of social awareness among kids. They get to learn about many things. They learn how to deal with various situations. They learn to differentiate about the good and the bad. They can manage to stay away from the evil if they have knowledge about the evil things of the world. This is only possible by reading various
books
and articles.
Why is it important to inculcate the habit of reading in children? How to cultivate the habit of reading in children? What kind of books should be introduced to children? Discuss here.