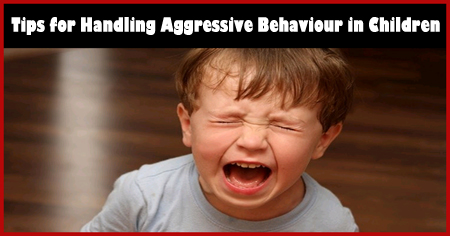 Aggressive behaviour can create a lot of problems in growth and development of children. So, it is a must to help them deal with such behaviour. Read on to find some tips for handling aggressive behaviour in children.



Anger is a natural emotion, and even children can get affected due to it. However, dealing with aggressive children is a challenge for parents. Though children do need some aggression, it becomes a problem when they hit or bite, or when they attack another person.
There are three causes of anger in children – frustration, which is caused when the child is made to do an activity she does not want to; attention seeking, which is caused when she feels neglected; and being territorial, when she does not want to share her toys. So, how do you teach self-discipline, judgment and ability to express appropriately to an
aggressive child
? Here is what you can do about it.

1. Be Firm and Consistent

Set some limits at the very beginning. Your child needs to know what "
behaviour
is acceptable, and what is not. As a parent, you have to be firm and consistent. You cannot ignore a child for her behaviour and yell at her the next moment. This sends a confused message, which in turn would lead to more aggression. Instead, respond with, "Hitting is not okay." A child who hits, kicks or bites should be corrected immediately so that she knows where exactly she went wrong.

2. Encourage Appropriate Forms of Expression

Encourage her to use words instead of using violence. Be sure to control your own behaviour as children observe and learn from their parents. Discuss and solve conflicts at home in a peaceful manner, and your child will learn the same. As children do not have the inborn quality to control their anger, you need to be their guide. Teach them that they cannot hit someone just because they are angry. You also need to discuss appropriate and inappropriate behaviour with your children and how it affects others.

3. Give Timeouts or Warnings

A child will generally become
aggressive
if she is suddenly told to stop playing, or that its bedtime. Instead, give her ten minutes time by saying, "You have to go to bed soon. Say bye-bye to your toys." Or if she has hit someone out of anger, take her to a quiet place and say, "I want you to be quiet and calm now. When you have calmed down for two minutes, you can go back and play." Sometimes you just need to take your child away from the upsetting situations, and make her understand where she went wrong. Young children need clear directions, but you need to be firm with your decisions.
4. Discuss Problems With Your Children

Aggression is a result of frustration. When you see your child getting agitated too often, maybe it is time for some heart-to-heart conversation. Talking to your child encourages her to talk her problems out. Explain to your child how differences can be resolved by negotiation and not by
hitting
, biting or kicking. Also, make it a point to praise good behaviour whenever possible. This will make your child feel good about positive behaviour more often.
If you see that the aggression is a result of boredom, make your child try something different. You can play games with her or tell her your childhood stories etc. to divert her attention.
5. Monitor the Environment

It might so happen that you are trying your best to discipline your child, but you cannot control what is shown on TV. There could be a link between violence on TV and its effect on your child's behaviour. It is better not to buy your child too many toy guns but divert her mind towards calmer interests. Aggressive peers can also undo your hard work. If your child sees her friend hitting or biting other children, she will get the message that such behaviour is acceptable. To counter, you might need to make a new friend.
The important thing to remember is that your response will build the temperament of your child. If you respond in aggression to your child, she will only learn so. You need to be calm, firm yet understanding to make your child understand what is good and bad. By using non-violent forms of
discipline<
, your child will gradually understand that there are positive ways of dealing with problems.
What are the causes for aggressive behaviour in children? How to deal with aggressive behaviour in children? What are the ways to prevent aggressive behaviour in children? Discuss here.