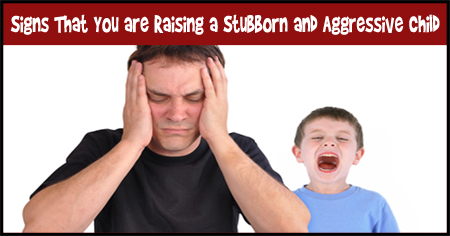 Stubborn and aggressive behaviour in children should be controlled on time. They may not grow-up into well balanced individual if such behaviour is not nipped in the bud. Here are some signs exhibited by stubborn and aggressive children.
Is your child beating up other kids? Is no amount of scolding or reasoning having any impact on them? Chances are that your children might be stubborn and aggressive. This is a common
behavioural problem
being discovered in kids of these days. You probably feel that you are not being a good parent as you cannot imagine a child behaving the way yours is.You try thinking back about your childhood days when a single scolding from mom or dad made you rectify your behaviour. But it is not so with your kid. There are several signs that can help you to identify if your child is actually
aggressive
and stubborn and take appropriate measures which will prevent them from becoming misbehaved adults later.
---
In this article
---
Giving In to Their Demands
Has it happened many times that denying their demands lead to a mess? Kids always keep asking for one thing or the other but parents must not give them everything. They must learn reason and moderation. But is it that, if your kid is denied something he or she starts behaving aggressively and misbehaving? Do they start whining, refusing to eat dinner, break things etc? Do they refuse to listen to reason and act stubborn till you are fed up and finally give in to their demands? This might be a sign that your kid is aggressive and stubborn.
Threats Ignored
You must have delivered a lot of threats if your child is behaving in the above manner. Like, denying them sweets or not letting them go out to play? But does it have any effect? Is it that in spite of your threats and warnings your child does whatever they want to? Do they break their toys or things around the house? Do they refuse to listen to your warnings and act against your wishes? Its time you start acting more strict and actually carry out your threats. It is for the future welfare of your child.
School Complaints
Does the teacher complain everyday about your child? Are they being rude to the teacher and not doing their work? Are they beating up other children and doing things they are prohibited to do by the teacher? Do they break other kids' things? All these are signs of aggressive and stubborn behaviour. You and the teacher must coordinate to
discipline
your child. Nip this
bad behaviour
in the bud. If other parents complain that your child is beating up their children in the playground, do not blame their children or dismiss it, act on it.
Lack of Gratitude
It is necessary for children to learn gratitude. Most children after they are taught learn to say "thank you" and "please". Children must appreciate what you are doing for them. They must be grateful for the gifts others are giving them. But if your child grudges to say "thank you" and "please" or they act stubborn and rude to people who give them gifts, then its time you do something to rectify it. These are definite signs of stubborn and aggressive
behaviour
.
Objects to Everything
Does your child have a problem with everything? Do they cry if the food is not as per their desires? Do they throw a tantrum if the toys you bought them are not what they wanted? Do they act rude when you choose their clothes or colours for their room? These are signs of aggressive and stubborn behaviour. They wish to have everything the way they want it. They cannot accept others choices.It is essential that parents identify these signs at a young age and rectify them before it is too late. If such behaviour is not nipped in the bud itself, children may grow-up into uncultured individuals.
What are the characteristics of stubborn and aggressive children? How to deal with stubborn and aggressive children? What are the ways to control stubborn and aggressive behaviour of children? Discuss here.