Balancing Sex Life and Kids
-by Editor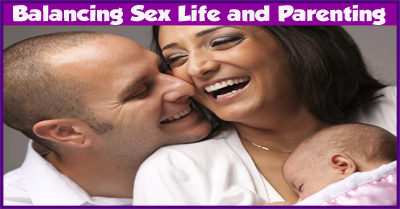 Is your sex life getting affected due to the added responsibility of raising kids along with balancing home and career? Find tips for balancing sex life and kids.
We are all aware of the importance of sex and intimacy in a marriage. As soon as you are ready to welcome a new member in your family and become a parent, it is established that your attention and affection gets diverted to your child. If you are facing trouble keeping the magic alive in your
married life
, there are a few steps you can take to remember when trying to improve sex life with your partner, even after being a parent.
Know There Is No Magic Number
The first step to resolving this issue is to take some time to reflect whether this really is an issue to discuss about. It is established that there is no magic number as to what amount of times you and your partner should have sexual intercourse. The point is to make your partner feel loved and satisfied in your
relationship
. Most couples are even satisfied with having sex once a month where as for others, this can be disastrous. It all depends on how you and your partner find ways to sexually please each other, even if you have less sex. Experimenting with foreplay and trying new things in bed can spice up the usual routine and bring back the spark in your
sex life
.
Talk It Out With Your Partner
If you do feel this issue needs to be talked about, then your partner should be the first one to know. Your partner, most likely, is thinking on the same page. It may be a tough topic to talk about because it can bring up feelings of guilt and shame often deep rooted from childhood. You should remember that if you want to spice-up your sex life and your
relationship with your partner
, the starting point is to talk and let your partner know that you are unhappy about the quality of your sex life. If you are in a healthy relationship, your partner will take steps to mend the uncomfortable situation and you will be able to revive your stagnant sex life.
Manage Your Expectations
Generally, the initial phase of any relationship is fueled with lust and affection that lasts up to two years. Due to media's conception, we often fall in the trap assuming that the passion should live on beyond the initial stage of relationship but this is not the reality. As you progress your relationship with your partner, the sex might decrease but you begin to form a deep and long term connection based purely on love and respect. It is essential to let go of every expectation you have about your sex life, else it can harm the relationship you have with your partner and focus on improving the quality of your relationship.
Examine the Causes and Work at Resolving Them
There can be a lot of causes explaining why you are having a dry spell when it comes to your sex life after becoming a parent. There are possible factors that come into play such as:
Internal stress due to increased responsibility of taking care of kids.


External stress from work, career, family issues etc.


Resentment and frustration due to poor communication or other personal events.


Body image issues, especially after pregnancy.


Decreased libido due to health problems and medication side effects.
If you are experiencing one of these issues, you need to address these to your partner in order to sex life. Generally, a counselor can help you two get back on track. By working on improving your intimacy after being a parent, you can start to rev up your sex life.
Treat Each Other As Lovers Once Again
After you become a parent, you might have less time to communicate and be affection with your partner but the key is in learning a balance. When you see your partner make it a point to acknowledge them with a special look, affectionate touch, a hug or any kind of greeting that shows that you are not taking your partner for granted. Do exciting things together and take up new hobbies together. Going out for a movie and a dinner together can be a satisfying experience. Engaging in activities like trying adventure sport, music concerts, plays, or even trying new
things in the bed can
liven up your relationship.
In a nutshell, sex and intimacy are important even after becoming a parent. It is important to take care of your partner too, along with your children, in order to maintain a healthy and loving relationship.
How to balance sex life and kids? How to improve relationship with spouse after becoming parent? How to resolve issues with sex life after becoming a parent? Discuss here.
Name: Rina
City: Mumbai
Comments: very nice article and tips for improving relationship after becoming parents.
---
Name: Seema
City: Mumbai
Comments: After 1.5 years of being parent I feel that something is lacking in our relationship. My husband never shows any love and care for me as he used to show before having kid.
---
Name: Sarbani
City: Delhi
Comments: Sex is very important part of marital life. But as we get busy with kids, taking time out for spouse is very difficult.
---
More