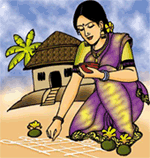 Auspicious and Aesthetic Folk Art
An ancient Indian art form , Rangoli is drawn at the entrance to usher in peace and prosperity. These are intricate patterns drawn in the courtyard or just outside the threshold of the entrance door to ward off evil spirits. Rangoli's are believed to make the surroundings aesthetic and auspicious.

Traditionally, down the ages in India, rites and rituals have been worked around the home and hearth to propitiate the deities and bring peace and harmony. One such ritual to ward off evil spirits is the drawing of Rangoli's on the floor at the entrance of the house. These are intricate patterns drawn in the courtyard or just outside the threshold of the entrance door, first thing in the morning after a bath. Rangoli's are believed to make the surroundings aesthetic and auspicious.

Art of the moment

Rangoli is an ephemeral art, much like the sand sculptures or street paintings of the West. In the South, rice flour - both wet and dry - is the preferred medium for doing Rangoli's. Elsewhere, powdered limestone is used for drawing the basic outline in white, which is then filled with colours. The fine powder is held pinched between the thumb and the index finger and sprinkled delicately by maneuvering the hand skillfully to draw lines. When the powder is released more freely, a layered colour is filled in.

Rangoli by many names

Rangoli, as a religious art form has been prevalent all over India. Variously known as Kolam in Tamil Nadu, Alpana in Bengal and Aripana in Bihar, it originated in Maharasthra. During Diwali, the Hindu festival of lights, Rangoli's are bedecked with oil lamps or diyas; together they are supposed to please and welcome the Goddess of Wealth, Laksmi. The Tamilians have an exclusive month, mid-December to mid-January, when unmarried girls make Rangoli's in courtyard at sunrise, singing songs. This ritual, an offshoot of a legend is supposed to fulfill the nubile girl's wish for a dream husband.

Intricate Patterns in 2" x 2"

The name, Rangoli, is a combination of two words - rang and avalli which means a row of colours. When you mention the word, Rangoli, what come to mind are colourful geometric patterns as these are greatly favoured all over. Many Rangoli's books promote these designs exclusively. The Kolam is usually line patterns in white, with a bit of spot colour provided by kumkum (vermillion) and haldi (turmeric). These are unbroken lines, as it was believed that the absence of gaps left no room for the evil spirits to enter. Today, of course, any line drawing or even freehand passes off as Rangoli.
The recurrent motifs in Rangoli's across the states are inspired by nature and feature leaves (peepal), fruits (coconut and mangoes) and flowers (lotus). Religious symbols like swastika and aum also figure in the designs.

Hindu Folk Art

Even today, the ritual is followed in middle-class homes in the interior pockets of metros like Pune and Mumbai, also Bangalore, Chennai and Calcutta. But, in its traditional from, Rangoli is a dying art and has assumed the mantle of being a Hindu folk art.

Modern-day Incarnation
While the ritual of Rangoli has faded from the modern-day home, it has been replaced by a larger-than-life form for mass consumption. Instead of powders, flower petals or grains and pulses are used to fill giant-size Rangoli's at hotels and wedding venues. Moulds with punched holes for intricate and detailed designs are available in the market, you just have to fill them with powder and let it filter through. Rangoli stickers are quite a rage and the fact that they have some permanency seems to act in their favour.
Rangoli's are de rigueur in festivities, but today they are slowly losing their religious significance and association and are looked upon more as decorative features in public functions or ceremonies, be it weddings, housewarmings or even seminars.