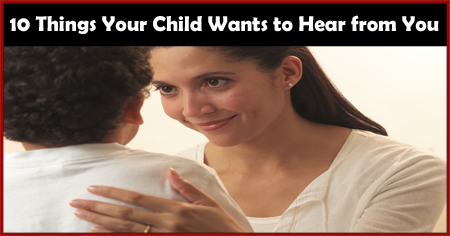 Children feel motivated and confident when they hear certain things from their parents. Read on to learn about the top 10 things your child wants to hear from you.
Children hear a lot of things from their parents. There are few things every child wants her parents to say.Right from birth, your child hears a lot of things from you. Some of the things are common among most of the parents. Have you ever thought what your child wants to hear from you? You do what you feel or think is right and communicate with your child as and when necessary, but there are few things every child wants to
hear from her parents
.
1. "I love you"
You might say this is quite obvious and you do not need to remind your child always. Well, they are important and help boost your child's confidence and reinforce talents which are going to help your child throughout her life.
2. "It's okay. Mistakes happen"
Teach your child that it's okay to make
mistakes
and mom or dad is not getting furious. Everyone makes mistakes. Tell her that next time you should be careful and learn from your mistake.
3. "I am proud of you"
Prepare your child to face the real world. Make your child feel that she is special for you and she does not need to change herself to accommodate others.
4. "Don't give up"
Your child is growing and so she is learning new things continuously. Few things might come easy, but some of them might be "too hard". Give your child the moral support she needs. Encourage her to keep trying and chase her accomplishments until she wins.
5. "Yes"
'No' is almost the first word that comes out of every parent's mouth. You can say 'yes' even if you do not agree to something instantly. For example – if your child wants to go out and play, you can say "Yes you can go after you finish your homework".
6. "I am sorry"
If you have yelled or were rude to your child, no matter what the reason was, you should
apologize
. Let your child know that you too are human and can make mistakes.
7. "I believe in you"
Children need their parents' trust to grow. It is a tough world outside and if they know you are at the back, they will have the courage to step forward without
fear
.
8. "You make me happy"
This is obviously right, but you need to say this to your child. It is a very powerful dose to boost emotional confidence of your child and this will strengthen your attachment with your kids as well.
9. "Be yourself"
This will motivate your child to take care of herself and her body. Start with instilling the habit of exercise in your kids. Your push will help your child stand outside the world as well. Let her be herself with unique hobbies, personality and interests.
10. "I am here no matter what"
Convey the message of unconventional love to your child always. Let them know that you will love them and will be there for them always, no matter what happens.Words can make or break relationships. It is well-known to all of us that wounds inflicted by words never heal. So, it is advisable for
parents
to say right things to their children. Love your kids, inspire them and help them in the best possible way you can.Above are few sets of words you might not even imagine would boost your child's confidence and strengthen skills as well. Everything that you say has an impact on your little one's mind and life. Spend enough time with your kids and enjoy parenting.
What is the right way to talk to children? Why is it important for parents to say certain good things to children? What kind of things should parents say to boost confidence of children? Discuss here.