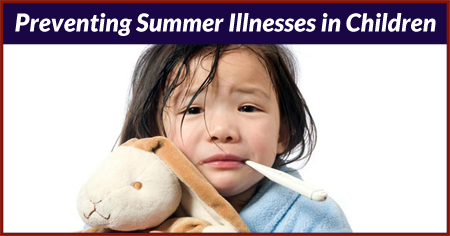 As the climate changes, children become more susceptible to illnesses. Therefore, it is a must to take preventive measures to protect them from such illnesses. Discussed below are some common summer illnesses in children and tips for preventing them.
With global warming on the rise, summers are sure to get hotter. Although, summers mean a bit of relaxation with holidays and trips, there are various illnesses that strike during this time too. Especially for children, summers are times that they become prone to illnesses like flu, prickly heat and others. However, there simple remedies you can use and precautionary measures that you can take so that your child does not go through such illnesses. This article aims to help you with that after picking out some of the most
common illnesses
that children suffer from during summers.
Prickly Heat
A common occurrence for those living in hot tropical countries, prickly heat is caused due to excessive sweating. This is common as children tend to spend long hours in the sun playing or while they are in school. Red lumps or blisters erupt on the skin and are most common in areas like armpits and folds of arms or legs where children sweat most. Making your children wear airy loose fitting clothes will help you prevent prickly heat. Regular showers and using prickly heat powders will also help immensely.
Dehydration
Another common factor due to sweating, dehydration is marked by exhaustion and fatigue. Drinking plenty of water is crucial during the hot summer months. Having fruits like watermelon also helps prevent dehydration.
Flu
Fluctuations of weather make cold and flu common amongst children in summer. Constant shifts from air conditioned rooms to hot playgrounds outside the home also gives rise to flu. Drinking herbal teas and lemon water help cure flu faster. Making sure that your child has vitamin C rich foods will also ensure that he or she does not catch a
cold
. Also avoid letting them have cold water directly from the refrigerator after they come home from outside.
Heat Stroke
A result of extreme dehydration, heat stroke can be a severe health condition in children. Children will tend to feel dizzy or might faint. Lots of water and a regular dose of ORS (oral rehydration) can help you prevent heat strokes.
Sun Burns
Long exposures to the sun's rays can result in sun burns. Sunscreen lotions are a must during summers to prevent sun burns. Aloe Vera gel also helps immensely.
Diarrhoea
Diarrhoea is caused due to intake of oily or heat inducing foods during summer months. Consuming water from unhygienic sources is also a major cause. Avoiding roadside junk food and always having clean drinking water helps in preventing
diarrhoea
.
Some General Tips
In general, consuming a lot of liquids will help your children stay hydrated which in turn will prevent a lot of diseases. Consuming soft drinks or other fluids which have a high quantity of sugar results in loss of body fluids so those are best avoided.Keeping your children indoors is also a solution to avoiding many illnesses. Libraries or shopping malls are better options of hanging out than the field as exposure to the sun can cause many illnesses.Make your children wear clothes that cover their arms and feet and are loose. Sunscreens, hats or stoles to cover their faces when they step out into the sun are also advisable to avoid rashes and
skin problems
.Summers are times that are meant to be enjoyed. Many go on vacations to escape the heat and many stay indoors to relax. In the midst of this, diseases and illnesses are never welcome and taking necessary precautions beforehand can save you from a lot of trouble. A constant supply of healthy nutrients and a steady intake of fluids can go a long way in preventing illnesses. Most of the above measures are essentially home remedies but in case things take a serious turn, you must consult a doctor.
Which illnesses are common in children during summers? How to make sure that children stay healthy during summers? Which foods can cause illnesses in children during summers? Discuss here.