Getting Creative - Paper Craft
Being artistic is an in born trait of all children. Here are two simple activities that would generate interest in science and sharpen their brain and imagination.
Do you want to be creative? So what are you waiting for? Why not keep yourself busy for a few hours by doing some interesting after school activity.

Activity 1: A Paper Mask
Things you need:
Paper plate
Glue stick
A pair of scissors
Elastic string or rubber band (big)
Water colours
Paint brush
vCotton wool

Lets Begin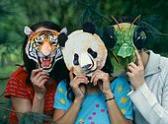 Take a paper plate and paint it in light pink. Let the plate dry. Now draw two small oval shapes on the outer surface to make eyes, A rectangle for the nose and a semicircle for the mouth in the centre. Cut out holes for both the ovals and the semicircle with the help of scissors. The eyes and mouth of the mask are ready. Stick some cotton wool in between the eyes and mouth on the rectangular shape to make the nose and paint it black. Decorate the mask according to your choice. Finally make one small hole on each side of the plate to fix a big rubber band or an elastic string so that you can tie the mask around your head. Your paper mask is ready. You can use such masks in Birthday parties.
An interesting way to recycle the paper plates.
Awareness of different shapes

Activity 2: A Pinhole Camera
Things you need:
A cardboard cubicle box
Tracing paper
Glue stick
A pair of scissors

Lets Begin

Take any used cardboard cubicle shoebox or a packing material box. Cut out one of the faces and seal it with a tracing paper. Make a hole in the opposite face. Your pinhole camera is ready. Point the pinhole towards an illuminated object. You will see its inverted image on the tracing paper.