Every kid is creative in their own way, what is better than art and craft to let your kids go crazy with their creativity. With the festive season coming up, there are so many DIY crafts that your kids could experiment with. You need basic material like craft paper, a pair of scissors and the most important, the Asian Paint TruGrip CR-8 Adhesive.
Features of Asian Paint's TruGrip CR-8 Adhesive
Can be used on different types of paper & craft material:With upcoming festivals like Dussehra, Diwali, Christmas and New years, you can plan fun art and craft activities with your children to make handmade lamps, diyas, letters, cards etc. To greet your friends and family.
This Super-Saver pack contains 10 orbs , each with 15gms of white glue:White glue is one of the most versatile products which can be used for various art and crafts.
Innovative design for user friendly application: Kids love fun and intriguing stationery products. The TruGrip CR-8 adhesive by Asian Paints is not only fascinating but also easy to use.
Vibrant & colourful design:Who doesn't love colourful stationery products? Your children would love to use this to bring their creativity to life.
Diwali DIY Ideas
1) DIY paper cup garland: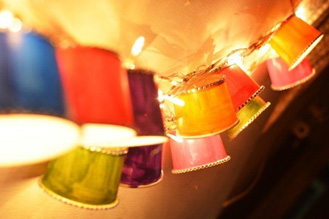 If there's a Diwali style piece that is ever-present, it's a paper cup garland. After Diwali closes, you can let it hang for longer! For this, you can utilize LED lights or fairy lights.
Material Required: Paper cups, craft papers, beads to decorate the cups, LED or fairy lights and Asian Paints TruGrip CR-8 adhesive.
Process: Wrap your paper cups with colorful craft papers, after wrapping the paper around, you can add the beads to decorate your paper cups further. For easy and quick work, use the TruGrip CR-8 Adhesive to stick the paper and the beads. When it's set, make an X mark on the lower part of the cups, and cut it with a blade.
Poke the lights through the holes made in your paper cups. Slip the lights to the lower part of each paper cup. Do this until you spread the entire length of the garland.
2) DIY paper chain
Paper chains are one of the prettiest looking decors that you can DIY for various festivals. During Diwali, you can pick vibrant coloured craft papers to make your home festival ready with these paper chains!
Material Required: Craft sheets, a pair of scissors, TruGrip CR-8 Adhesive, ruler.
Process:
Utilize a ruler and a pair of scissors to cut a progression of long, rectangular strips. Each portion of paper makes one "link" in the chain.
Make the main "link." All you have to do is glue the distant ends of one paper strip together into a ring. If you are utilizing glue, hold the two closures of paper together until the glue dries.
Include a subsequent link. When you have one solid ring, string another strip of paper through the centre of the circle. Presently, join the ends of this second strip along with glue.
Proceed in a similar way until your chain is the length that you want.
Hang your paper chain from the walls or roof. On the off chance that you leave the chain long, you can string it through a space to add a festive touch. Hang the chain somewhat free, so it dunks low in the middle. You can cross chains over one another, exchanging colors, or in any event, linking long chains together to make a super-chain.
3) DIY Bangle diya holder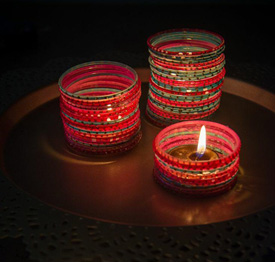 Diwali is the festival of lights. Lit diyas make every home festive ready during Diwali. This DIY will decorate your candles and diyas in the most fun and colourful way.
Material required: Old Bangles, TruGrip CR-8 Adhesive, Candles or Diyas.
Process:
Stick some bangles together using glue to form a cylindrical shape.
You can use as many bangles as you want, depending on the length of the candle or diya holder that you desire.
Set up your home with these super pretty and colourful bangle diyas!
4) DIY Diyas:

Diyas are an essential part of Diwali! You can plan a fun festive activity with your kids of decorating your own diyas at home!
Material Required: Diyas, Beads, Paint, TruGrip CR-8 Adhesive.
Process:
Paint your diyas with your favourite colours .
Stick beads with glue on painted diyas. You can make different designs with the beads.
Decorate your home with these pretty diyas during Diwali!
Get your spirit up for the festivities and explore your creative side with these super easy DIYs! You can create some amazing decorative things for your home with this easy to use product and some basic craft material.