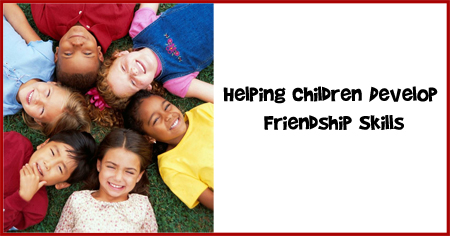 Child's friendship is one of the most difficult issues that most parents find to deal with. Healthy friendship can help your child learn to share, compromise as well as find out ways to clear misunderstandings. Read on to learn how you and your day to day behaviour can have an impact on your child's friendship.
Childhood friendship is different from what adults have. Children find emotional support and learn how to value themselves as individuals along with having fun with friends. Most children become possessive about some of their friends while some simply enjoy playing and sharing with friends.Studies have shown that children who are good at making friends and have good friends during childhood, have less chances of suffering from depression when they become adults. This is the point where parents play a very important role and they can help their children develop their ability to make friends.
How Parents can Shape Children's Friendships Skills?
Here is what parents can do to shape friendship skills in children.
Healthy Parent-Child Relationship
The relationship that parents have with the children has great impact on their abilities to make friends.
Observation during Playtime
Parents play a big role in teaching their children develop
friendships
by supervising their children when playing. You can observe and see whether your child readily
shares and plays
with his or her playmates or has some selfish issues that need to be worked on.
Being an Emotional Coach
You can help your child overcome the selfish and impulsive nature by being an emotional coach to him or her. You can also help your child socialize and find better friends.
How Parents can Help their Children Make Friends?
Find out how parents can help their children make friends.
Teach Friendship Skills
Help your child play with friends without behaving like a boss or accepting to do everything that his or her friend says. In fact, children learn and follow their parents in almost everything. So, your friendship skills can have impact on your child. You can teach empathy to your children by helping your neighbours when they are in need or doing something social with your child along with you.
Invite Your Child's Friends Home
No matter what age your child is you can
invite his or her friends
at home on a play date. If they are too young, think about some activities to keep them engaged. Even after your children turn older, make your home a welcoming place for his or her friends. This will make things easier and friendship healthy as well.
Support your Child during Friendship Issues
Misunderstandings are obvious in friends especially during childhood. You have to help your child work through emotions and help him or her look at both the sides of the story. Try to make the perspective of your child's friend clear. Give both of them some time and then ask your child to invite that friend home. Make sure you do not overreact because this will make things worse.
Let your Child Choose Friends
Friendship can help your child have an expanded view of the world. Keeping your child's safety in mind and under close observation, you can let your child make friends on his or her own.
Watch out closely for Teasing or Bullying
It is normal for young children to tease or hit each other occasionally. But you should have a close watch whether any of your child's friends hits or threatens him or her. Talk to the parents of that child. Make sure this does not happen again because it will have negative impact on the self esteem of your child.Always keep in mind that helping your child make friends without trying hard is challenging, but it will have great impact on
how your child socializes
all through his or her life.
How to help children make good friends? Why is it important for children to have friends? In what ways can friends help in the development of social skills of a child? Discuss here.