Dance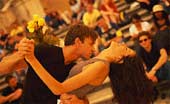 Chances are that we have all experienced turning off balance and feeling a bit awkward. This is bound to happen from time to time because nobody is perfect.
Here is a list of some possible causes and remedies.
Improper posture - A top does not spin well once it begins to lean over and neither will you. Make sure that your body is aligned correctly. Keep yourself centered.
There is so much involved during turns that it can become pretty overwhelming to try to remember it all before each and every turn.
To simplify things, try to remember just one thing, and that's the letter 'T'. This should be easy to remember because T starts the word 'Turn' and also 'Top' which is the way you would like to spin.
Just think of the vertical bar of the 'T' as everything below your shoulders. See how nice and straight it is.
Next think of the horizontal line that crosses on top as your shoulders. See how even that line crosses the 'T'. It's not sloping like a seesaw, down on one side up on the other. Instead it evenly tops the vertical bar.
So the next time you're nervously anticipating a difficult turn, relax and think of the letter 'T'. It will remind you to keep your posture erect and your shoulders even. That should be enough to give you a great start on any turn.
Check your posture. Make sure that you are poised and in the proper form for whichever dance that you are about to start. The form may vary with the dance.
Slouching into the ground will make you heavy and difficult to move. Raise your carriage. This will have the added benefit of making you look thinner and much more graceful.
Be sure to maintain tone in your arms. This is true even when doing smooth dances. Maintain a degree of resistance in your arms.
Somehow people get the idea that if they make larger movements and move more body parts during each dance measure, they are better dancers. Their hips, shoulders and everything in between get thrown in every direction. They think this is impressive but it really just looks out of control and unpolished.
With men the error usually takes a slightly different form especially among the beginners. They tend to take super large steps and accent their dancing with even larger steps in various directions. This can make dancing to fast music especially difficult.
An important point to remember is that the further your foot extends out past your hip line, the more time and energy you waste. If you do this in every measure of your dance, it will make your movements choppy. It may even throw off your timing.
Now I'm not saying that you should never use your hips and shoulders or take large steps. These things are all very acceptable as accents during a dance. Just be aware that for something to qualify as an accent it should occur at well spaced intervals during your dance.
An accent will lose its impact if you do it too often. The best dancers are always in control over ALL of their movements. Even their accents are well thought out although they may appear to be spontaneous and free.
Control is at the center of even the wildest performance that you can remember seeing professionals dance. Seek to maintain control of your movements first. Start with the smaller movements and then you can gradually expand on their size.

Article by Mariann Cataletto, co-founder of Dancestudent.
Visit www.dancestudent.com for more original content like this.


To add your views on this article or read others comments Click Here




Back to Previous Page More on Article Index