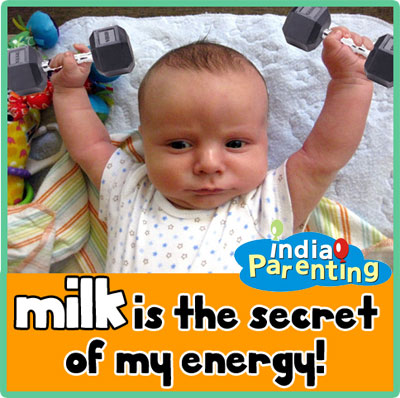 How much milk should your child have daily? How will it help your child's development? Read on to find out all about the benefits of milk for children.
Do you worry about whether or not and how much milk should you incorporate in your toddler's diet? This should help you make your decision. As per a new study, people who have been drinking milk and consuming dairy products throughout their lives are fitter and healthier than most others. They can walk 5% faster than other elderly people, and are 25% less likely to suffer from balance problems. Moreover, children who drink milk daily for four to six years are 20% less likely to get a tumour. Children given milk for six years or more have a 40% less likely risk of getting bowel cancer as adults.
Milk has been famously termed as "nature's wellness drink." A nutritious, creamy glass of MILK, unlike branded health drinks, vitamin waters, and other artificially manufactured beverages; has natural nutrients like Calcium, Vitamin D, and Phosphorous. It has a proper balance of carbohydrates and proteins that help bones and teeth growth as well as aid proper functioning of muscles and blood vessels.
We initiate our digestive system with milk; but as we grow older, our intake decreases. Our reasons for not drinking milk vary from "It's too fattening" to "I don't need it to be healthy". Do not let your children get this habit from you. Make milk an irreplaceable item in their diet from childhood to ensure that they never think of giving up this nutritive, creamy beverage.
When should my baby start drinking milk?
Breast Milk and Formula contains essential nutrients that infants require to grow. Cow's milk should be introduced in your baby's diet only after twelve months to ensure that your baby's stomach is strong enough to digest the milk.
How much milk should my child drink?
Children aged between 1 to 2 years need 2 to 3 cups i.e. 500 – 750 ml of whole milk.
Children aged two years and above need 2 cups i.e. 500 ml of 1% or 2% milk which is lower fat.
What are the different types of milk available?
There are many different kinds of milk available in the market such as whole milk, 2% milk, low-fat or skimmed milk and fat-free or non-fat milk.
If you are one of those who fret about the fat intake or follow a diet plan, your child can still partake of the many nutritive qualities of milk in the form of low-fat and fat-free milk.
3 glasses of low-fat or non-fat milk will meet all the calcium requirements of an adult body and around 75% of an adult body's Vitamin D, protein, potassium, phosphorous, Vitamin A and Vitamin B12 requirements.
1% low-fat or non-fat milk has most of the necessary nutrients an adult body requires and therefore you can do without the artery-clogging fat present in whole or 2% milk.
If you are one of those who worry about the presence of growth hormones and pesticides in milk obtained through mass dairy farming, you can opt for milk obtained organically.
What kind of milk should I give my child?
Doctors recommend giving children whole milk until they become 2 years old because the fat from whole milk helps in development of nerves and brain cells. After they turn two, you can switch them to 1% or 2% milk to balance the amount of fat and cholesterol in their growing diet.
If however, your child gains weight faster in comparison to his height, you are recommended to switch to low-fat milk after consulting your paediatrician. You are advised to stick to 1% or 2% milk rather than shifting your kids to skimmed milk for many years because children require fat from the milk for nerve development for a long part of their developing years.
What are the sources and composition of milk?
While the most commonly consumed form of milk is cow's milk; milk from buffaloes, goats, sheep, camels, etc. is also consumed worldwide.
Milk contains around 90% water. Carbohydrates, fats, proteins, minerals and vitamins form the other 10%. Milk contains minerals like calcium and phosphorus in abundance and potassium, sodium and iodine in traces. It is an excellent source of Vitamin A, B, D, E and K.
What are the health benefits of milk for children?
Drinking milk regularly, from the newborn stage all the way to old age is extremely beneficial.
Bones
Milk helps your child's bones to grow and stay healthy. Milk is a wonderful source of calcium, magnesium, phosphorous and protein; all of which are required to keep their bones healthy and strong. Milk calcium helps in improving bone density which lowers the risk of stress fractures and osteoporosis in later life.
Teeth
Calcium and Phosphorous in milk helps prevent tooth decay and cavities. Protein from milk forms a thin film on the enamel surface thereby preventing enamel damage. Dentists suggest that the only drink other than water that doesn't cause tooth decay between meals is milk.
Skin
Milk has many nutrients that benefit your baby's skin. Lactic Acid acts as a natural exfoliator in removal of dead cells, enzymes smoothen their skin, amino acids moisturise their skin and antioxidants in the milk protect their skin from environmental damage.
Muscles and Blood
Milk is a great source of calcium. Calcium found in the muscles, blood and intercellular fluid aids the muscular and circulatory systems. Calcium helps contraction and expansion of both muscles and blood vessels. A cold nutritive glass of milk after your child comes back from playing outdoors helps in replenishing fluids and rebuilding muscles because of its protein content.
Eyesight
Vitamin A, present in milk, help maintain corneal transparency and conversion of light into neural impulses on the retina. Milk also helps keep the eyes well moisturised.
Weight Loss
Studies demonstrate that children, whose diet included dairy products in any form daily, put on less body fat. However, keep in mind that while milk is healthy, it does have calories and therefore you are suggested to ensure that your child drinks only as much milk as is required to meet his dairy requirements of the day.
Stress
A glass of warm milk is a great stress buster. It helps tense muscles relax and soothes frayed nerves. It helps children who are having difficulty in falling asleep to relax and fall asleep.
Body Health
In the long run, milk helps in reducing high blood pressure and cardiovascular diseases such as heart attacks. It helps in lowering high cholesterol and provides relief against constipation and heartburn. It also lowers the risk of strokes and some cancers such as bowel cancer. It is believed that consumption of milk over a long span of time lets high amounts of calcium build up in the body, protecting the bowel against damage from toxic bile acid.
Did you know?
1 cup of milk provides 300 mg of calcium;
1 cup of yoghurt gives 300- 400 mg of calcium;
1 cup of cottage cheese or Paneer gives 75-150 mg of calcium;
1 litre of milk supplies as much calcium as 21 eggs;
Butter contains 82% fat;
Cream contains 18% fat; and
Whipped cream contains 30% to 36% fat
While no one can argue that milk is not a good thing, it is important to understand that you cannot have too much of a good thing. Milk has calories, and therefore must be restricted to the recommended amount. Additionally, milk is filling and if kids have too much of it, then there is a good chance that they will not wish to eat other foods. This would mean that they are forgoing the nutrients that they would gain from eating the other foods. So, while children do need to drink milk in order to keep them healthy all their life, you should not exceed the recommended amount of dairy per day and ensure that they eat a variety of foods rich in nutrients.
Please Note: If your child suffers from a milk allergy or is lactose intolerant, do not let him consume milk before consulting with your doctor.
Should I give my child milk? How much milk should my child drink daily? What are the health benefits of milk for kids? Discuss here.