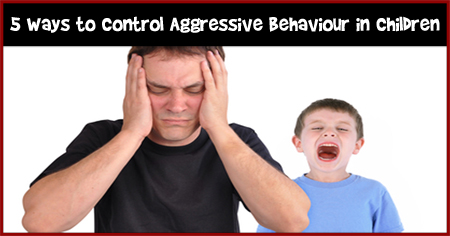 Children are too young to understand if the way in which they are behaving is right or wrong. Aggressiveness is just an outlet to their certain worries, stress and fears. Read on to learn about the 5 ways to control aggressive behaviour in children.
Though aggression is a part of human being, we fight to control and normalize it as early as possible. But children cannot learn this skill overnight. It is Parents who can play an important role in helping children learn have to control aggressive behaviour.Many parents feel that they are failing at
parenting
when they see
aggressive behaviour
of their children. Normally, people tend to withdraw seeing anyone angry or aggressive. If your child is behaving aggressively with others, it is time to check this before it leads to serious issues. Also, an
aggressive
child faces great difficulty at school, making friends and fitting into most of the social situations.
How to Control Aggressive Behaviour in Kids?
Let us take a look at some of the ways to control aggressive behaviour in kids.
1. Recognize the Reason or Reasons
Normally, the most common reason behind aggression is the feeling of helplessness. However, you should not presume and come to conclusion without talking to your child. Behaviour is, in fact, symptom of the actual problem. Just because your child hits somebody, it does not mean that she is angry. She might be hurt, sad, scared or feeling threatened.
2. Understand and Accept the Feeling
Acknowledging your child's feeling is one of the best ways to diffuse negative emotions. In fact, you can catch your kids as they get upset and acknowledge those feelings so that they do not turn into aggression. Always keep in mind that while acknowledging the feeling, you should never justify your child's behaviour.
3. Set Clear and Firm Limits with Your Child
If you find your child showing aggressive behaviour often, you will have to take firm steps and give everything some time. Change would not be seen overnight. Do not think about being a good or
bad parent
at this point of time. If your child is aggressive, you need to teach her how to do things in a different way. Approach her aggression in a way that does not shame or punish her.
4. Teach Your Child to Identify Her Feelings and Trigger
Help your child understand the warning signs which occur within her when she acts out. This will help her have better control and find out when she is escalating towards aggression or an explosive outburst.
5. Teach Your Child Some Self-Calming Techniques
There are some sounds, textures, smells or tastes that trigger aggression in children. Offering your child, a break or helping her calm down in a quiet room, away from distractions can help. Some children respond well to learning through breathing techniques. Other techniques are listening to soft music, aromatherapy, swinging, warm bath and many more.Keeping your child busy and occupied could help keep her out of trouble to a great extent.Creative arts like drawing, painting, writing, music and drama can help your child explore her feelings and help her divert her negative energy into something she enjoys.If your child is suffering from impulsive behaviour, help her learn how to wait. This will help her identify the warning signs and at the same time help her change course. In addition to this, you can also teach your child about other's feelings. For example, if your child hits or pushes other child, talk to her and let her realise how she would feel if she was pushed or hit the same way.Besides checking out the ways one after another, as a parent you should keep in mind that how you respond to your child's aggressive behaviour will have direct and deep impact. So, keeping your cool especially during such times is very important. Let the emotional storm pass and then discuss the matter and triggers with your child to work out a solution.
What are the reasons for the aggressive behaviour in children? How to control aggressive behaviour in children? Is it alright to punish children for aggressive behaviour? Discuss here.