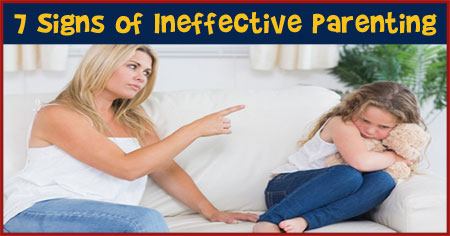 Parents must try to identify the signs of ineffective parenting and avoid being an ineffective parent for right development of children. Let us take a look at the 7 signs of ineffective parenting.
Not all parents have the required parenting skill that is necessary for raising a child so that the child gets positive environment throughout the entire childhood. Lack of
parenting skills
can lead to inadequate development of child and in the long run it will affect the society very badly. It is very important that parents remain alert while raising their kids and should get rid of any attribute that leads to ineffective parenting. Here are 7 signs of Ineffective parenting.

1. Neglecting the Child
Children always look for security from their parents. Parents should be careful enough to avoid any situation that may make their kid feel unwanted. Good and responsible parents would always try hard to offer highest sense of security to their kids. Ignorance from the parents' side would make the child feel lonely and unwanted.

2. Comparing the Child
No child is perfect. Many parents have the habit of
comparing their kids
with others. Children would never appreciate getting criticized and compared by their parents. This leads to lowering of their self-esteem and it becomes difficult for the parents to rectify their kids. Only when a child gets encouragement from their parents, he or she will try to avoid wrong-doing.

3. Too Much Pampering is Bad
Parents must draw the fine line between pampering and loving their kids. When parents love their child, it has positive effect on their physical and mental growth while over pampering the child would lead to development of various negative traits in the child. A child may become demanding, rude an arrogant when continuously pampered by the parents.

4. Abusing the Kids Physically and Verbally
Some parents abuse their kids physically and there are many who abuse their kids verbally. Both have negative impact on the growth of the child. Parents have right to scold their children but they should be careful about the language they are using. Parents must avoid being harsh to their children and should handle them delicately.

5. Forcing the Child
Many parents forget that their children have their own identity. When children are forced to work according to the wishes of their parents it creates a sense of denial in them and it creates a negative effect in the child. Parents must respect the decisions taken by their children and must give enough space to their kids so that they can take their own decisions. Every kid likes to become independent and only when parents will stop interfering in their life, they would learn to take
responsibility
and accountability for the acts they are doing.

6. Shouting Should Be Avoided
Parents burst their stresses on their children and that is why they cannot stop yelling at their kids. If parents yell at their children on every occasion then children would never listen to them normally. Shouting and screaming at kids create negative impact on the children. It becomes difficult for the children to understand their mistakes and rectify it.

7. Punishment
Punishing the child for every wrong doing should be avoided by the parents. For every small incident punishment is not the solution. Harsh
disciplinary actions
taken by parents for every small wrong doing will create a feeling of hatred in the children and a time will come when they will not get affected with these harsh punishments.
With slight alertness, parents can avoid being ineffective parents. They can also take help from various parenting courses and can even visit counsellors to bring in positive changes in their parenting skills. Early signs of ineffective
parenting
must be taken seriously and parents must try out every possible means to get rid of them.
Which are the common signs of ineffective parenting? What are the ill effects of ineffective parenting on children? How to avoid being an ineffective parent? Discuss here.