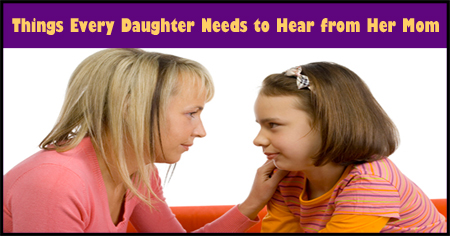 Saying certain things to a girl child can really boost her self esteem and emotional strength. Hearing some words from a mother can really help to strengthen the morale of girl child. Read on to find about the things every daughter needs to hear from her mom.
Being a mother is one of the most precious feelings in the world, and is essential that she expresses her love to her daughter.
Young girls look for inspiration everywhere, on television, in movies, among friends – but the first role model of her life should be her own
mother.
When she is happy and successful, she looks for the approval of her mother but when she is sad, she needs assurance and confidence from her mother so that she can try again.
Even if you are a good mother by taking good care of your daughter's physical and mental needs, a few words of love and comfort will go a long way in deepening the
mother-daughter relationship.
Have a quick look at the things every daughter needs to hear from her mom.
1. You are My Priority
Let your
daughter
know that she is important to you, even more important than work or finances. Put your work away for a minute when your daughter brings home a picture she drew at school. It is important to be absolutely attentive when your daughter is telling you something.
As a young child, your daughter might have many dreams of her own, or simply loves to talk about your imagination or she might want to share a meaningful experience. By listening to them without judgment, you create the atmosphere where your child would not be afraid to tell you anything. Professional success can wait, but your daughter's childhood should be remembered as a series of precious memories.
2. I Am Proud of You
Your daughter needs to be accepted and loved by her mother, no matter how old she is. Many girls feel that they are not good enough which leads to a sense of low self-esteem among them. As a mother, it becomes your responsibility help her love both her uniqueness and imperfections. Tell her that she is not to be compared with popular icons or even her peers, as she has her own strengths and her weaknesses she must be proud of. Teach her to just be herself.
3. I Am Always There for You
Sometimes, we all need a shoulder to cry on when we get our feelings hurt. Instead of only telling your daughter to be strong and bottle her feelings up, encourage her to express through her tears, if she needs to. It is important for mothers to make time for these healing sessions, when you get to know the innermost thoughts of your daughter. Encourage her to tell you what happened, but do not force or blackmail her.
4. Let Us Spend Time Together
As with any other relationship, spend some
quality time
going out for a cheeseburger or a bookstore or on a holiday. Talk to each other about things you see on the street, or places you want to visit someday. Do not make it a compulsion, but a pleasurable enjoyment. Your daughter would treasure these happy moments in the future instead of you bringing home new dresses and shoes. If you have more than one daughter, it is better to take them out one-by-one to have a heart-to-heart conversation about something you both enjoy.
5. I Love You, No Matter What
"I love you" is a beautiful sentence, which shows that your daughter is priceless to you. As a good mother, show your love through your words and your actions. Tell your daughter that your love her at every opportunity. A delightful way to show some love is to leave little surprise cards and notes for your child in her school bags. It is amazing to see the look of light and joy it brings on their faces.
Though there are a good many more things your daughter should hear from you, you can start with the above from the next day. Taking care of your daughter's emotional needs will help her realise your love for her, which will in turn make her a happier person at heart as well.
Why is the role of mothers important in the upbringing of daughters? What kind of things should a daughter hear from her mother? What are the important responsibilities of mother? Discuss here.