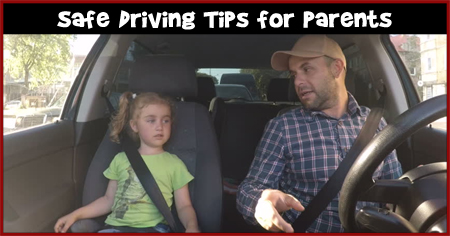 It is a responsibility of parents to drive safely when their children and other family member are travelling with them. Here are some traffic and road safety rules which parents must follow when they are driving with their family and children.

Parents feel very comfortable to have a car and drive themselves for family and school trip. The only concern of the parents is safety. They need some assurance and should follow safety measures while traveling in their own vehicle with their family and children.
Specific conditions and rules should be followed while driving, whereas the required safety measures are common to all the drivers on the road. Though the road rules mentioned are not a big deal for many, it plays a major role for parents. Below are some of the basic safe driving tips for parents, which would really help them when they are with lovable family.
Basic Vehicle Driving Tips for Parents

When talking about the basic vehicle driving tips, it can be of two types such as personal safety and road safety tips.
Personal Safety Guidelines for Parents
Here are some personal safety guidelines which parents must follow without fail.
Seat belts are one of the important factors to be noticed before starting driving the vehicle.


Buckling with seat belts is proved to be a life saving measure, but this fact is not well clear to many of the drivers.


Never think that wearing seat belts is a harmful action.


Do not take the risk of talking through mobiles or texting even if it is an important call or message.


Fill your thirst or hunger feeling before driving. Avoid eatables or drinks while driving.


Never drink alcohol and drive even if family and children are not travelling with you.


Distractions should be avoided while driving at all costs.


Turning on the FM and often changing the channels, reducing and increasing the volumes are some of distractions that divert the attention of driver.


If the lens or specs must be used, better wear it before you start driving the vehicle.


Do not try to wear the lens or specs while driving. It is best recommended not to use dark sunglasses.


Adjust the mirror to focus on the road and not for the personal makeup factors.


Number of passengers should be limited to the capacity of car, because overloaded vehicle could create lots of distractions and safe driving can become difficult.


Buying a branded car or an expensive vehicle is not a big deal, but it is important to choose a car that meets all the safety standards and well suits your confidence and experience.
Traffic Rules and Road Safety Guidelines for Parents

Let us take a look at
traffic rules
and
road safety guidelines
which should be followed by every individual, especially when driving with family and children.
Whenever the speed limits are marked on the road, stick to the mentioned speed limits, where an unwarranted speed could lead to accidents.


Always maintain a space between your car and the other vehicle on road to avoid minor damages.


Tailgating another driver or vehicle is not a right or proper way to drive on road, especially when travelling with kids and family.


Show a sign or signal when taking a turn or diversion.


Do not hesitate to use the wipers during rainy season.


Turn on the headlights to get a correct distance view in the evenings and nights.


Acquire proper knowledge on road signs, signals, rules and procedures.


Never park the vehicle in 'No Parking Zone' as that might create a difficult situation for you as well as for others.


Night travel is not a good choice if taking the family for a short or long trip.


Do not drive if you are feeling sleepy or giddy.
While applying for a license and appearing for the test, be genuine and avoid creating a proxy. Everyone must know the rules and regulations of the road before they get a license to drive. Traffic and road safety rules are not just created for fun. Following traffic and road safety rules can help to prevent accidents and other life threatening events. Therefore, follow
driving safety
rules for the safety of your loved ones.
What precautions should parents take while driving? How can parents travel safely with their children in their own vehicle? What should parents avoid doing while driving with children? Discuss here.