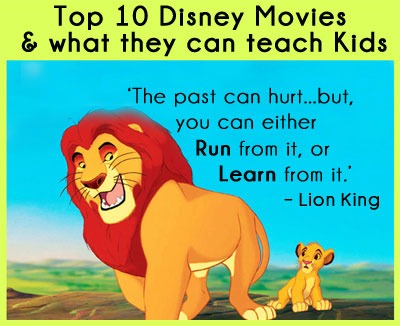 While children love Disney Movies because they transport them into a fantasy world, parents love Disney Movies because of the important lessons that they teach their children. Disney Movies can help mould your child's character and teach her a great deal about morals and values.


Animated Disney movies are well-loved by both parents and kids, not just for the entertainment and fantasy world that create with such aplomb, but also because of the ease with which they teach important life lessons and help mould a child's character with ethics, morals and values.
See the top 10 all-time favourite Disney movies and why you should make your child watch them.
1.
Beauty and the Beast



'Don't judge anyone by their outward appearance.'
This movie illuminates the old adage – Don't judge a book by its cover. Just because someone's looks may be different or displeasing to look upon, they may have a good heart or smart brains. Looks can be deceptive and it is much better to judge someone based on their character than their appearance.
2. Bambi
'How to be a nice person.'
This movie teaches that even though saying the truth is important, if the truth is going to hurt the other person, one should either prevent himself from saying it or say it in a different way to prevent the other person from getting hurt. If you know that what you are going to say can hurt the other person, you should find a way to say it kindly and with respect and understanding.
3. Hercules
'What a real hero is.'
This movie makes viewers understand that bravery is not only presentation of physical strength, but the strength one feels in their heart. When you stand against any misconduct or any unlawful activity and preserve your principles, you become a hero.
4. Cinderella

'Be patient. A miracle will come your way.'
Cinderella shows that best things in life come with patience, and while it is hard to be patient, you are learning important life lessons that will make you appreciate your miracle when it does come your way.
5. The Lion King
'Think of past difficulties as stepping stones to future success.'
This movie shows the difficult and sometimes painful process that is a part of growing up. It teaches you that you will face difficulties and failures in your life but they are all an important part of making you what you are. It encourages kids to look at challenges as stepping stones to future success.
6. Pocahontas
'How to make friends.'
This movie shows that every person is different and has something new to teach you. It shows kids that although the rest of the world might be different from you, it is very big and beautiful. Be open and make friends with everyone.
7. Tangled
'What bravery truly means.'
This movie helps children learn about getting up early and to do things you always wanted to do. Even if you fail or face challenges, you should not spend your time lazily, but try harder till you achieve your goals.
8. Pinocchio
'How to take decisions.'
This movie shows you that the right way of taking a decision is to follow your conscience. Even though you weigh various options, you should follow your heart when taking decisions.
9. Aladdin
'Inner beauty.'
This movie shows that although you should take good care of your outer appearance by wearing clean clothes, brushing your teeth, keeping your hair combed, etc., you should remember that what is more important is your inner beauty – your sensitivity, character and thoughts are of prime importance always.
10. Lillo & Stitch
'Importance of family.'
This movie demonstrates the meaning of true family which loves you and makes you happy. Family will always trust and believe in you and your vision and will stand by you forever. It teaches children the importance of family time.
Always keep in mind that our children are growing in world where they have to face a lot of problems and only their image and principles can save them. The fact that they enjoy the movies will help them soak in the subtly conveyed lessons, morals and values much better.