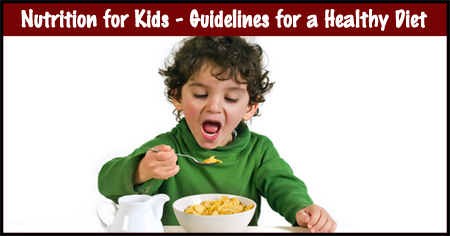 Is your child getting adequate nutrition along with a balanced diet? Find out the guidelines for a healthy diet along with tips to follow and practice.

Following a healthy and balanced diet is very important in life and more so for kids. Nutrition for kids means a diet encompassing ingredients from all the food groups.
Introduction
Just like adults, your child's diet should consist of items from all the main food groups like vitamins, minerals, proteins, carbohydrates, and fats. Eating a balanced diet along with good amount of physical activity will ensure that your child remains healthy and does not become
overweight
. Essential nutrition from various food groups can come through plant as well as animal sources. Vegetarians obtain their vital minerals from vegetables, fruits, grains, etc whereas children eating non-vegetarian food get their protein and other nutrition from meat.
Infancy and Diet Guidelines
Breastfeeding provides ideal nutrition for kids which should start at birth and continue at least for twelve months. At around four-six months, you can also include supplementary foods like mashed
Khichdi
, mashed fruits and vegetables etc; in your infant's diet.
Human milk fed to infants is high in antibodies, anti-microbial factors, enzymes and other good stuff. Breastmilk fed to children for the first six months of their life ensures that they are healthy. Infant nutrition done right can help in the proper development of the baby as science shows that adequate nutrition during infancy plays an important role in lifelong well-being of your precious one.
1 Year

Children who are one year old can be fed around two cups of milk with 2% fat. According to reputed paediatrics, low fat milk need not be introduced before 2 years of age. You can include 1 cup fruits and 3/4th cup of veggies. Some lean meat, beans and whole grains can be introduced. Try to include a variety of vegetables instead of keeping it same.
2 to 3 Years
The same diet which you start at the age of one can be followed. You can increase the amount of grains and veggies slowly and bit by bit. Toddlers can be fed grains like one cup of ready to eat cereal or half a bowl of cooked whole-grain pasta, rice, etc.
Vegetables and
fruits
should be sliced properly to ensure that he or she does not swallow the whole thing and choke. One egg along with cooked dry beans provides the protein. Natural cheese and milk will provide
calcium
for your child. Toddlers should be given food which is soft to make swallowing easier.
4 Years and Above
As your child starts growing and becomes active, he or she will start burning more calories. Hence, whenever your child starts being more active, the quantity and portion sizes can also simultaneously increase.
Be sure to include healthy items from all the food groups. Limit the amount of saturated fats, trans fats and sugars. Fat intake should come from healthy sources like fish, nuts and vegetable oils. Avoid fried fish. Sometimes, girls might need a different diet as compared to boys.
Diet for Adolescents and Teenagers
There might be a change in appetite as your child starts growing and becoming bigger. He or she will start feeling hungrier and would not resist food unlike the young ones who make a fuss over food.
You can include low fat milk in their diet and lean protein, whole grains, fruits and vegetables. Fruits and vegetables also contain carbohydrates and fiber so be sure to include them in the diet. Iron and calcium is important in adolescent's diet. The body needs iron in order to make haemoglobin which is important for red blood cells to carry out their functions.
Foods rich in iron include green leafy vegetables like spinach, legumes, beans and lentils, cashew nuts, etc. Iron deficiency can make your child feel weak and low on energy.
Thus, feed your children highly nutritive foods. However, do not overfeed them. Some kids need supplements as advised by the doctor. Junk food is high in calories and low in nutritive value. Calorie intake should be based on age and as per physical activity. Sweets and other outside food should be consumed in moderation.
Good eating patterns
should be developed right from a young age so follow the above guidelines for a healthy diet.
What is the importance of providing right nutrition to kids? How to encourage healthy eating in kids? What kind of nutrients should be included in the diet of kids? Discuss here.