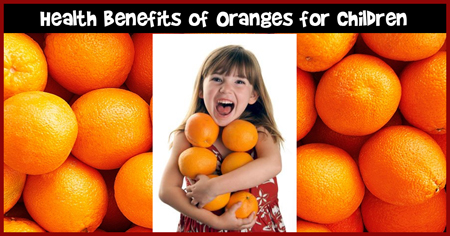 Orange is one of the fruits that children love the most. This fruit is not only tasty but also it can provide innumerable health benefits to them. Listed below are some of the important health benefits that oranges can provide.

Orange is one of the citrus fruits and it is mostly available in winter season in India. This tangy tasting fruit is favourite among children. So, why not include this fruit in their diet during the season when it is available and help children reap its health benefits. Below mentioned are some of the health benefits that children can enjoy by eating oranges.
Benefits of Oranges for Children
Take a quick look at some of the important
health benefits of oranges
.
Helps to Boost Immunity

Oranges are a rich source of various nutrients. These nutrients make children immune against common as well as well dreadful illnesses. The vitamin C content in oranges helps in preventing common illnesses like cold. Further, the nutrients in this fruit can also help to reduce the risk of developing diseases like cancer, diabetes, high blood pressure and other heart diseases.
Improves Digestion

The fibre content in oranges helps to improve digestion. So, this fruit can be definitely included in the diet of children who are facing issues like
constipation
.
Good for Eyesight

Oranges are also rich in Vitamin A, which is good for
improving the eyesight of children
. This fruit also helps in preventing eye problems like cataract.
Good for Skin

An orange is also one of the fruits that can help in improving dull and damaged skin. The essential nutrients in this fruit help to fight skin damage caused due to exposure to pollution and sun. In fact, if orange is applied externally to the skin, it can help to get wonderful glowing skin.
Other Health Benefits

The nutrients present in oranges are also known to deal with and prevent many health ailments. It can help to deal with symptoms of diseases like scurvy, mumps, typhoid, whooping cough etc.
Health benefits of oranges can be enjoyed the most by children if they eat it as a whole. But including oranges in the
diet of children
can be made enjoyable with fun recipes.
Orange Recipes for Children
Here are some of the simple yet delightful orange recipes.
Orange Juice
It is one of the simplest recipes made using oranges. All you need is some oranges, a blender or a juicer and a strainer. You need to de-skin and de-seed the oranges and then put them in blender or juicer. Once you finish blending oranges, use a strainer to extract the juice. Use a bigger strainer to extract the juice faster and to make less mess. Pour the juice in your child's favourite glass and see him jump with joy.
Orange Slices

De-skin the oranges and with the help of knife make medium sized slices of orange. De-seed these slices with the help of a knife. Sprinkle a pinch of salt and red chilli powder on these slices. Place these slices in a plate and serve it to your child. Your child will definitely love to munch on these tangy slices.
Orange and Strawberry Salad
Oranges can be combined with other seasonal fruits in order to make a healthier and a tastier recipe. One such recipe is orange and strawberry salad. Oranges can be de-skinned and de-seeded and cut into pieces and mixed with pieces of strawberries. Few mint leaves can be crushed and added along with a dash of lemon and sprinkle of salt and pepper. Serve this salad in a glass bowl. This eye pleasing recipe will surely delight the taste buds of your child.
Although, oranges can provide immense health benefits, parents should ensure that children eat these fruits in moderation. Choose them with care and encourage your children and family members to consume them while they are fresh.
Which essential nutrients are present in oranges? How to encourage children to eat oranges? Can consuming oranges help to cure some health ailments? Discuss here.